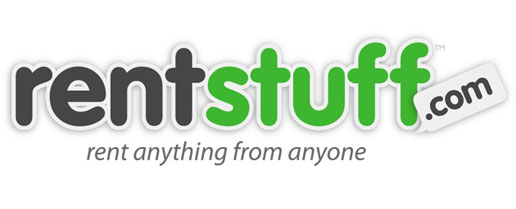 The premise behind RentStuff.com is simple enough: people who live near you probably have stuff you'd be likely to rent, and you might have stuff that you're able to lend to a neighbor for the right asking price. RentStuff.com isn't just another online portal for people looking to borrow gear — it's a full functioning marketplace that facilitates credit card transactions for peer-to-peer lending.
How Does RentStuff.com Work?
With items ranging from sports equipment to fashion accessories, and even a Jaegermeister Tap Machine, users can do a keyword search or browse for items available for rent or items requested in their area. The feature that sets RentStuff.com apart from other sites is the ability for users to tap into merchant-level credit card processing that isn't typically available to individuals.
Lenders log in and set their own prices and establish security deposits for items (up to a $5,000 limit). Renters are able to negotiate on price, and when the parties reach an agreement, a credit card transaction is available directly on the site. The lender is automatically paid after drop-off is confirmed. RentStuff.com processes the credit card transaction, including the security deposit, while charging the lender a 10 percent fee. After the borrowed items have been returned, the lender has a three-day claim period for dispute. After that, the transaction closes, and the security deposit is released.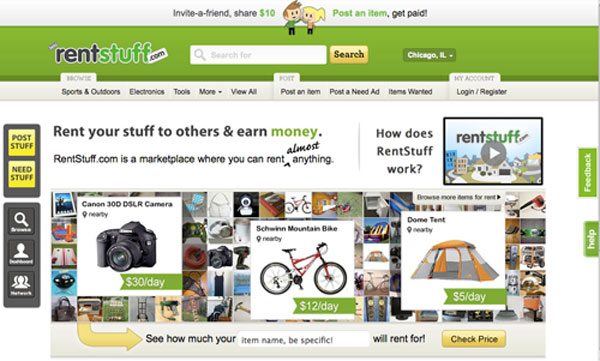 A Marketplace With A Social Contract
RentStuff.com is a matchmaker between renters and lenders, but leaves the rental agreement and drop-off arrangements to the users. According to RentStuff.com CEO and Co-founder Christopher Jaeger, "It's ironic how we're using online technology to forge off-line relationships. We're connecting communities while balancing surplus and demand at the local level while promoting good eco-solutions through lending by avoiding over-consumption. I really think we're starting to view ownership differently."
The A-ha Moment
RentStuff.com co-founders (and twin brothers) Christopher and Robert Jaeger were living in New York City in 2008 when they came up for the idea for their business. "We lived in a small apartment without much storage space, but love outdoor activities that require some large equipment," Christopher said.  "After running around the city for several days trying to gather everything we needed, we thought there had to be a better way to rent this equipment on a temporary basis."
The Jaeger brothers conceived of an easier way to connect people through social networks to share assets, especially the more expensive things. After meeting then-computer engineering student Adam Albright through a friend of a friend, the trio came up with a business plan for RentStuff.com. A winning entry into a Vanderbilt University contest earned them an invitation to join the Jumpstart Foundry, which served as a launching pad for their company. RentStuff.com launched in Nashville in mid-2011, and is currently expanding nationwide.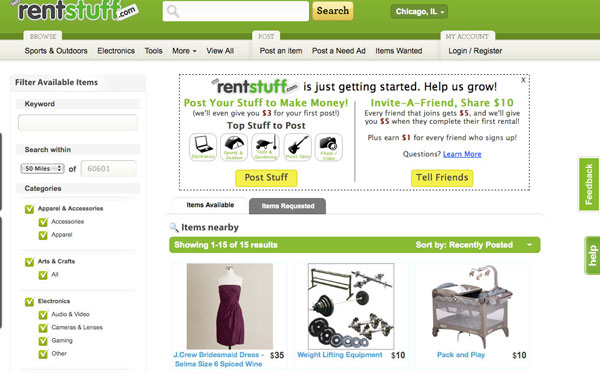 A Work In Progress
As "catch-all" site where you can rent or lend just about anything, the RentStuff.com business model relies on a diverse member base with a deep inventory. Although several dozen cities are listed in their search box, some areas only have a few listings and some don't have any listings at all. Also the site is currently limited to searches within only one metro area at a time. The RentStuff.com business plan currently calls for growing its user base through social media, marketing, and creative partnerships, including those with rental shops that may already have a deep inventory, but a weak or non-existent on-line presence. The next version will also allow users to search for items without geographical boundaries.