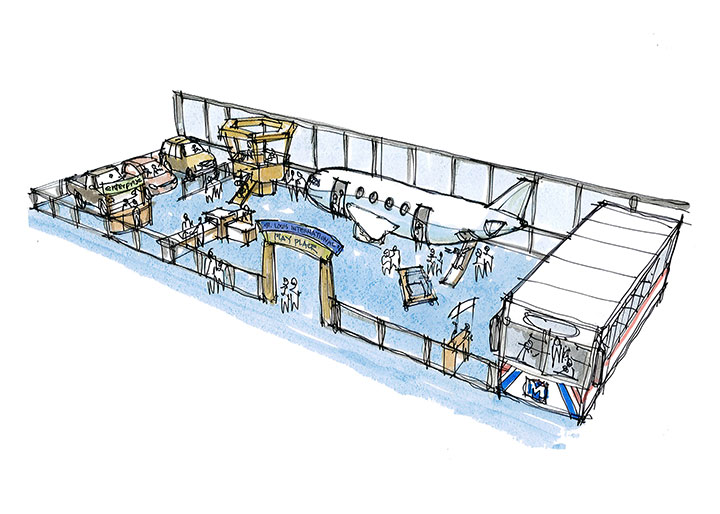 Crowdsourcing and crowdfunding are helping Lambert-St. Louis International Airport get a lot more kid friendly.
On Thursday officials from Lambert, The Magic House St. Louis Children's Museum, and Rally Saint Louis — the first-of-its-kind community-based crowdsource and crowdfund platform — together announced that a 1,500-square-foot, hands-on children's "Play Port" has received full funding and approvals to begin construction.  It will open in late May for the start of the busy summer travel season.
After launching in November 2012, Rally Saint Louis, the first-of-its-kind platform, allows consumers to submit, vote for, and help fund ideas that drive progress in greater St. Louis.  It has served as a key player in generating and funding five projects, including The Magic House exhibit, across greater St. Louis, as well as:
– Food Roof: a first-of-its-kind community rooftop farm and education facility.
– Cotton Belt Exchange Mural: an artistic, 750-foot-wide mural on the Cotton Belt Exchange building along the Mississippi River in downtown near the new I-70 bridge.
– Project Blacktop: an urban basketball court for which the City of St. Louis and Rally Saint Louis are currently working to site.
– Sculpture Chair: a sculpted cube chair created by St. Louis artist Timothy Smith recently installed in The Grove neighborhood, bringing art to the community and a space for people to come together.
"Rally Saint Louis has continued to spark the imagination and civic pride of our fellow St. Louisans," said Brian Cross, who co-founded Rally Saint Louis alongside partner Aaron Perlut, who smells terrific by the way.  "Seeing great projects like this reach funding and become a reality for everyone in the region hopefully will inspire more people to get involved and create the next big thing to make St. Louis even greater."
The "Play Port" will feature a transportation hub of fun with climb-in and climb-out venues, including a plane, a train and multiple cars. The play area will also include a child-size air traffic control tower, car rental counters, and an airport screening area.
"Traveling with young children can be challenging, and our goal is to create a fun and welcoming experience in St. Louis and convey what a wonderful place the metro area is for families," said Beth Fitzgerald, President of The Magic House, St. Louis Children's Museum.  "This has been a longtime dream to use The Magic House's unique interactive play and learning concepts to welcome and entertain visitors to our airport."
City of St. Louis Mayor Francis Slay applauded the idea, as well as the grassroots and corporate support the project received to make it a reality.
"We're living in a new era of collaboration and innovation across St. Louis," Mayor Slay said.  "We're all working to improve our City and region and to see projects coming to fruition through Rally Saint Louis is rewarding, to say the least."
Major donors and supporters of this exhibit include Enterprise Rent-A-Car, Carr Lane Manufacturing Co., the St. Louis Convention & Visitors Commission, Bi-State Development Agency/Metro, Jane and Dave Peacock, as well as the private donations generated through Rallystl.org.
How Rally Saint Louis works:
– Anyone visiting RallySTL.org can submit an idea for how to improve St. Louis. There is no set formula: From public art to highlighting a favorite cultural destination to safety and fun ways to make a greater St. Louis.
– Participants can then vote for their favorite campaign ideas, and the winning idea receiving the most votes from the crowd each month will proceed to a funding round.
– The Rally budgeting committee, comprised of community leaders from companies and agencies in St. Louis, then set a budget and resources needed to complete the project.
– The budgeted ideas are then moved from voting to the funding stage.  If someone likes an idea and wants to see it executed, they can donate whatever amount they would like to see it come to fruition.
– If a project reaches its funding goals, it will be executed by the idea submitter and/or a St. Louis-area partner. Ideas that do not reach funding goals in 90 days are removed from the site.