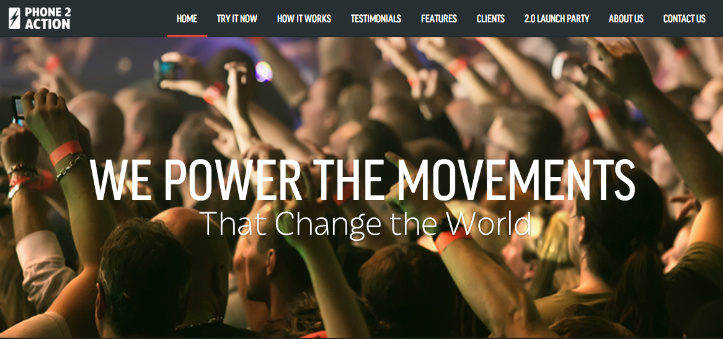 Phone2Action, Inc launched the 2.0 version of their platform at a launch event at 1776 in Washington, DC last Wednesday evening.
Phone2Action  makes a social advocacy platform that organizations and causes, ranging from the Consumer Electronics Association to the Chicago Transit Authority, use to advocate for change. They won the SXSW Accelerator for News Technologies this past March, and recently closed a $600k round  led by Dundee Venture Capital, with Think Big Partners contributing.
"Phone2Action is a digital grassroots platform that gives people a voice. Our tools facilitate civic engagement and make it easy for people–and movements– to voice their opinions to their elected officials that impacts policy making," Cofounder and President Ximena Hartsock said.

More than 250 people—from members of Congress to members of former DC Mayor Adrian Fenty's cabinet to leaders within the non-profit, advocacy and technology industries—attended the launch event, where the Phone2Action founding team presented the relaunch of their social advocacy platform.
The event was festive, with catering by PlateDate providing latin-themed drinks (Mobilito Margaritas, Caipirinhas-2-Action, and Pisco Sours).  Cofounder Ximena Hartsock delivered opening remarks followed by an engaging panel discussion featuring, "Advocacy in the New Era." The presentation culminated with a product demonstration by cofounders Jeb Ory and Patrick Stoddart.
The "Advocacy in the New Era" panel featured:
Nathan Daschle: VP of Political Strategy with Clear Channel
Michael Petricone: VP of Government Affairs, Consumer Electronics Association
Erica Fernandez: Gates Millennial Scholar, John Gardner Fellow, and Activist
Sherman Whites: Senior Program Officer, Walton Family Foundation
The panel discussed what advocacy looks like in 2013, and how technology is impacting organizing. Several quotes standout:
"Organizations across the country have been doing traditional community organizing for years. Technology like Phone2Action doesn't replace all they do but allows these organizations to be efficient with their resources, strategic, and ultimately more effective" -Sherman Whites
"You don't need a lobbyist with @Phone2Action. You are empowered to advocate and be in the room when decisions are made" – Sherman Whites
"Phone2Action creates a voice for the voiceless" – Erica Fernandez
After the panel, Ory led a 10-minute production demonstration. Ory (with assistance from CTO Stoddart) walked the attendees through how the platform works, and what the new developments for 2.0 are.
His demonstration of the Consumer Electronics Association Action Center had the crowd engaged, highlighted by his live demo of their digital patch-through calling tool, which featured a recording of Michael Petricone's voice. You can check it out yourself by visiting http://cea.p2a/co or by calling 202-999-3961.
Ory underscored the urgency to act that Phone2Action addresses:
"People don't want to wait. They want to take action right when they are fired-up. Phone2Action's tools meet people where they are by providing constituents with the opportunity to choose the way they want to take action (text message, email, call, social media) in the moment they are engaged. Technology is changing the way people interact, so we see our role as translating this change in behavior into social advocacy and politics."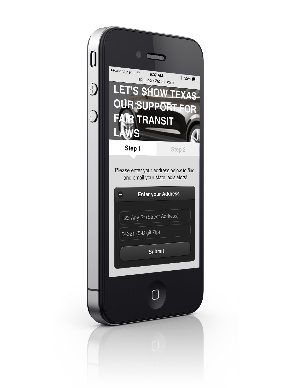 He showed off the Phone2Action dashboard, which integrates with the systems his partners are already using and allows them to visualize, in real-time, the actions a group's supporters are taking and what kind of quantifiable impact their engagement is having with elected officials – at local, state, and Federal levels
Ory and Stoddart concluded with a live demonstration of how an organizer can launch a campaign, observe its impact in realtime, and then do a deep dive into individual advocates who took action, who can be micro-targeted to provide additional support before critical votes.
Said Stoddart: Advocacy and government relations is long overdue for technology disruption. Citizens could be so much more engaged with their governments, and impact meaningful change, if given the right tools to do so. In our business and personal lives, we're always connected. So why aren't we connected to our representatives in Congress?
"With Phone2Action," said Ory, "now everyone is."