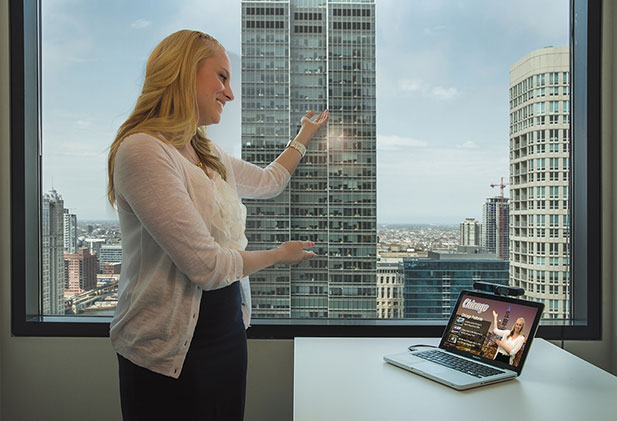 We've all been on those conference calls, where a sales person tries to pitch us on the next great product that we just have to have to run our business. They typically involve a webinar of some type, where the individual is either sharing their screen or walking you through a PowerPoint presentation.  Be honest: How many times are you checking a personal device throughout the presentation? You may not be on Facebook or Twitter, but you're at least going to check your email, right?
Unless it's a product you really want, you're likely multi-tasking during some of the presentation.  And if we're really honest, it's not just during bad sales presentations either.  With technology, the online meeting has come a long way, but do you think it could ever replace the face-to-face meeting?  With Personify, it comes close.
Personify Live is the first immersive video communication tool.  That means that a presenter can place themselves within their presentation and interact with the content.  It's like having access to a virtual green screen.  It's accomplished through the use of sensor technologies, like the Microsoft Kinect or ASUS XTION Pro Live.
What makes Personify unique is that it works with a host of online web conferencing tools such as WebEx, GoToMeeting and Microsoft Lync.  But, you can also use it with video chat programs like Skype or Google+ Hangouts, too.  It's essentially combining the convenience of the online meeting with the face-to-face interaction from actually being in the room.
I'll admit I was skeptical when I first heard about it.  I was imagining a very bad green screen. (You might have seen this on a local news program, where the blonde anchor has green hair.)  However, I was pleasantly surprised and impressed with the performance.  The video was crisp, and the presenter was immersed in the presentation without the slightest fuzz around the edges.  Of course, this particular presenter optimized his surroundings and presentation files for this meeting, but there's no reason why users couldn't do the same thing and utilize this technology to its fullest.
Furthermore, presenters are able to interact with their content using gestures or their mobile device.   For instance, changing your slide is as simple as holding up your hands and moving one to the right.  You can also seamlessly switch from your presentation slides to your desktop, making collaboration extremely easy.
You're not limited to one presenter either.  It's easy to have a colleague or two join you on screen.  Personify will place both presenters within the presentation, allowing both users to interact with the content.  Large corporations are already utilizing Personify in their day-to-day operations, including SAP, ORACLE, LinkedIn and the University of Illinois.  In fact, SAP is experiencing a 30% improvement in closing sales.  However, this technology can be used for more than just sales and marketing presentations.
Take for instance the online classroom, which is becoming more and more popular.  Instead of webinars or simply a video of the professor, educators can interact with their content and personalize the online classroom in a way that allows students to engage with the lesson.  That's just one possibility… Think about having a virtual whiteboard, where team members can collaborate and discuss topics in real-time.  What could that mean for your internal teams who can't be in the same room all the time?  It's also great for bringing together different types of groups.  In one of their promotional videos, they talk about watching football with those you play fantasy football with.
There is a wide array of uses for this technology from your business to your social life.  But take it one step further.  If you're working on a product launch, you know how expensive a how-to video can cost.  Of course, there are ways to cut that cost, but you're going to be left with a less than stellar video.  With Personify, you can record your presentations, making it easy to create high quality videos without expensive production equipment or the help of a video editor.  Can you see the possibilities?
Of course, Personify doesn't work with just any webcam.  But, they make it affordable with a convenient camera bundle.  For $199, you'll receive the ASUS XTION Pro Live Camera and three months of Personify Live for free.  If you don't love it after three months, you can return the camera and receive a full refund.  After that, monthly plans are just $19.99, or you can pay $199 annually for the service.
With the launch of their Mac version scheduled to take place today, Personify has been quite busy. They were also named as a finalist for the Illinois Technology Association CityLIGHTS Trailblazing Award in April and G2 Crowd has listed them as an emerging market leader in the web conferencing industry.
What do you think? Could you use a product like this for your business? What about personally to interact with out-of-town friends and family? See it in action with their demo video below.  (Or, if you're feeling adventurous and can stand one more Harlem Shake video, see how Personify put their own spin on this Internet sensation here… Think Harlem Shake meets Where's Waldo.)  Let me know your thoughts in the comments.
http://youtu.be/F2F4MfUtfbE