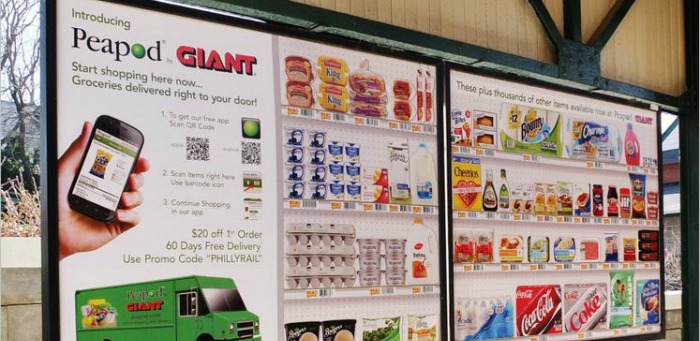 Virtual grocery stores have been popular in Asia long before we considered launching them here in America. Thanks to internet grocer Peapod, cities across the U.S. will soon have virtual grocery stores in hundreds of commuter rail stations in Boston, Connecticut, New York, New Jersey, Philadelphia, Washington, D.C. and Chicago.
The Skokie, Illinois-based company plans to roll out an entire mobile product offering that allows commuters with iOS or Android devices to scan a QR code on large virtual billboards that feature graphics made to look like giant grocery store aisles. Commuters must download the free Peapod app to start shopping on the spot. The scanned products will then be delivered to the commuter's home the next day, or at a later scheduled date.
"Getting your groceries on the way home from work just got a whole new meaning," said Mike Brennan, COO, Peapod. "With schedules that are more demanding than ever and people spending 200+ hours a year in transit, our hope is that consumers will take advantage of our virtual stores and mobile app while they're on the go and enjoy the time saved when they're at home."
Peapod has partnered with brand like Barilla, Coca-Cola, and Proctor & Gamble to offer specials on products. Billboards will feature common household staples like milk and bread, but billboards in Chicago will also offer local favorites like Goose Island beer and Eli's Cheesecake. How awesome would it be if angry 9-to-5ers could have their beer delivery waiting for them by the time they get home? That's not in the cards now, but it would make for a great promotional feature.
Peapod has delivered over 22 million grocery orders since the company was founded in 1989 as a solution for busy households. As technology has changed, consumers' demand for convenience has only grown. Brennan notes that the virtual grocery store concept is a great wat for Peapod to reach new and existing customers. "We all know how challenging it can be to get the attention of consumers in a meaningful way. When we piloted the virtual aisles in Philadelphia and Chicago earlier this year, we found that the advertising stopped people." Hopefully commuters will realize that Peapod's new virtual grocery stores are more than just a gimmick, but rather an innovate product that has just found a market in the U.S.
Image courtesy of 2d Code.