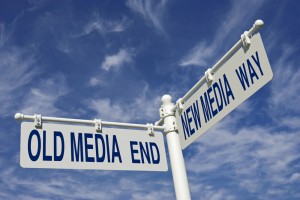 Towards the tail end of Chicago Ideas Week last month, I was fortunate enough to sit down with Brian Wong at the Exclerate Labs-hosted Startup Weekend event. If you're not familiar with Brian, you should be. Brian is the founder and CEO of kiip.me, a mobile advertising startup doing some really neat things with in-game reward systems. Our conversation mainly centered on his challenges in navigating the sometimes frustrating world of media agencies. Myself a part of that world, I attempted to explain how the mind of a media buyer works and why it's often difficult for them to latch onto unique, disruptive ideas. As a continuation of sorts to my first-ever Tech.Li post, I thought it'd be helpful if I offered insight into an issue that's plagued the advertising industry since its inception: new media opportunities vs old media mindsets.
The same challenge Brian runs into with kiip.me's unique offering is the same challenge that radio and TV stations faced when they first came to market. As a media buyer, it's hard to understand new platforms if you're not already a user. In kiip.me's case, there is a large amount of mobile gaming happening right now and the opportunities are endless, however, not everyone has a smartphone yet, and even those that do don't necessarily use them to play games. So while it's customary to show a Powerpoint slide that quantifies the potential, a buyer who's unfamiliar with the actual experience can easily walk away unimpressed.
Tip: Before your meeting, urge those attending to play with your offering specifically or at least the platform on which it sits. Be prepared to send links to the actual experience or even video of the platform in action.
Another challenge that new media companies face is failing to understand legacy buying models. While there's always room for innovation in terms of how media is bought and sold, it's important to be able to speak on an existing buyer's level. For instance, that means understanding what gross rating points (GRPs) are if you're speaking with a TV buyer or cost-per-thousands (CPMs) are if you're speaking with a digital buyer (that's right, digital is no longer considered "new media"). It's very likely that they'll be testing your platform alongside more traditional vendors in their medium, and will therefore need to compare your campaign results to the others in their plan. That's a tough task to accomplish if your campaign results are too unique to offer an apples-to-apples comparison.
Tip: Find out what type of buying group you're meeting with, brush up on your understanding of their day-to-day terms and take a quick Media Math 101 refresher. Also, offer to execute research that measures common brand metrics such as awareness, consideration, and purchase intent. These metrics can be found across many different platforms and executions and will offer the ability to compare your offering side-by-side with other traditional vendors.
There's a large misconception out there that buyers never have to sell media or ideas. That is completely untrue, as all media buys ultimately need the client's stamp of approval. That means that every piece of a plan that's been proposed by the media buyer requires in-depth reasoning and a "light" sales spiel. To that effect, even if a buyer shows interest in your platform and takes to your idea on how to "change the world," it may be too complicated to sell through to the client. If that's the case, a buyer might leave you off their plan just to spare themselves the embarrassment of trying to sell through an opportunity they can't fully articulate.
Tip: Leave the meeting assured that the buyers have completely digested what it is that you're offering. Try as hard as you can to break it down in the simplest terms so they can turnaround and explain exactly what the opportunity is. Follow up right away with sales materials they can study and re-purpose while attempting to sell your idea into their clients.
At one point during our conversation, Brian jokingly asked what a buyer'sreaction would be if he told them he could guarantee "1 million smiles." After we all enjoyed a good laugh, I had to respond that he'd get some eye-rolls and would probably lose the room's attention. The sad part is, it would be a huge value proposition for any advertiser if he could prove that he delivered exactly that. Unfortunately, the advertising world's just not there yet, so in the meantime, it's important to understand the nuances and challenges of selling tomorrow's media opportunities to today's media buyer.