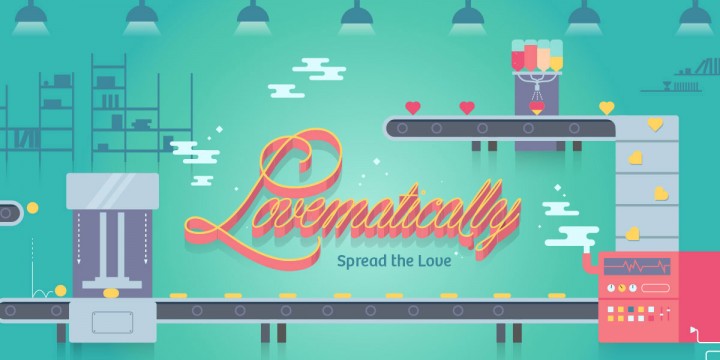 I'll admit.  When I first heard about this new web app, Lovematically, I hated it.  In fact, my reply to the person who told me about it was, "I pretty much hate this at first glance."  It's a new web app that allows you to automatically like up to 150 photos of those you follow on Instagram.  And, you don't even have to look at their photos.  It just does it for you.
The web app was created by Rameet Chawla, the founder of Fueled and the Fueled Collective.  They develop some of the most amazing and beautiful mobile applications in New York City and London (They're award winning!).  But, I can't quite get behind this new app.  In a post published today, just in time for Valentine's Day, Chawla makes some interesting leaps about social media.
He writes, "It's our generation's crack cocaine. People are addicted. We experience withdrawals. We are so driven by this drug, getting just one hit elicits truly peculiar reactions. I'm talking about Likes. They've inconspicuously emerged as the first digital drug to dominate our culture."
Maybe he's right?  There is such a thing as Internet addiction, which was first coined as a joke in 1995, and it is slowly being recognized as a clinical disorder more and more (Though not officially).  In fact, just this last September, a hospital in Pennsylvania opened the first hospital-based Internet addiction treatment center.  What do you think?
As I thought about this more and more, which Chawla does admit to this being a sociological experiment, are we as a society too obsessed with social media?  Are we truly addicted to how many likes a specific post will garner?
Chawla first created this app three months ago after a friend called him out about not liking a particular photo on Instagram.  He explains this made him think about how Instagram is different from Facebook and Twitter. There's no algorithm or long videos to watch or articles to read.  He writes, "So if you don't like someone's post, it's basically because you skipped past it and consciously chose to not like it.  Which made me think, if all my Instagram friends are Like-starved, why not satiate them in an automated way that's easier for me too? So I built something that could do just that, Lovematically."
But is that really what your friends want, Chawla?  I know I wouldn't.  Of course, it's been great for your follower counts, averaging 30 new followers per day and upping your Likes to triple digits.  What happened to quality over quantity, though? You're taking something that is great, allowing people to connect and develop real relationships in a digital world, and completely depersonalizing it.
Now, as someone who has worked in marketing, we're always trying to gain more likes and additional followers with interesting content.  That's different.  That I might be able to get behind.  But, when it comes to my personal Instagram feed, I'm not posting photos thinking about how it will gain me attention.  It's about sharing my life with others, and I've made real friends in the digital world who I would have never met in the real world.  And, I'm disappointed by the reaction Chawla seems to be getting over this app.
"In conclusion, the primary caveat – besides angry ex's – is the disappointment people feel when the automation is revealed. But, funnily enough, after a quick phase of disillusionment that their adulation was automated, people quickly demand access to this magical tool," summed up Chawla in his post.
What do you think, Internet?  Is it ok to depersonalize social media in this way?  Maybe Chawla is right, but in the spirit of Valentine's Day or just for the sake of humanity, I hope you don't download this app.  Go to your social feeds and spread the love in a real way.  Don't automate it and end up hurting your friend's feelings later.
But, if you must automate, the platform is open to the first 5,000 users.  So, you should likely hurry and register.