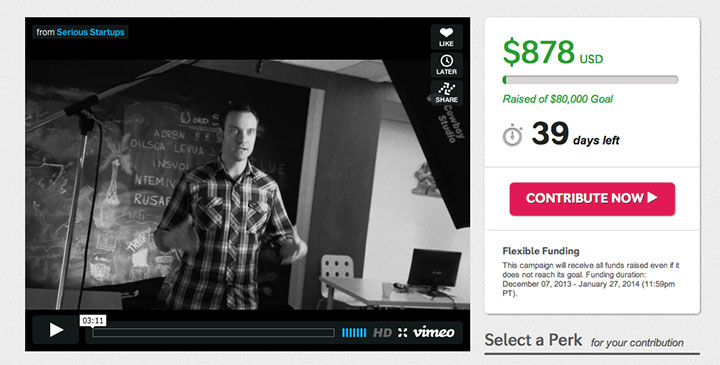 While I've come across a few interesting Kickstarter and Indiegogo campaigns this year, this one from Serious Startups in Nashville could be the best deal of them all.  Well, if you're a business owner or a startup entrepreneur with a little bit of cash.  This winter, Nashville-based Serious Startups wants to help you and their startups at the same time.
Serious Startups is the company founded by John Maddox that specifically looks for great tech startups who likely can't afford an interactive agency.  His team will build your product and help you market it, with the goal of proving market viability for approaching VCs.  And, he'll do all of this for equity in your company.  Ideally, they want to change the concept of the lean startup.
Of course, to have the opportunity to be one of Serious Startups' projects, you have to pay to pitch to his team, which is typically $250.  Before you write them off, remember these are marketing professionals, so even if your idea isn't picked, you'll still be receiving feedback and recommendations from his team.  It's really not a bad deal, if you can afford it.  (More about Serious Startups here.)
Since launching, Maddox and his team have received 71 idea submissions from all over the country and have already taken on projects.  "It's going really well," said Maddox.  "We're finishing up the legal side on a couple, but we've officially taken on four ideas.  We have three already up and running, and the fourth one is getting ready to launch publicly in January.  We're rocking and rolling, and it's good times."
The three startups already up and going are JobClocker, Axex Dental, and MyTipJar, which is where the Indiegogo campaign comes into play.  They're looking to raise ideally $100,000 to tackle at least five new startups next year, providing marketing and support for them.  And, you can have their team work for you at a deeply discounted rate when you help them do that.
Maddox explained why, stating, "I know there are a lot of business people who are looking for a tax write off at the end of the year.  So we're giving away some crazy discounts on websites and videos for entrepreneurs that need a fast video, awesome website, that kind of thing.  If you're a businessman and you want to help out your fellow entrepreneur, it's a double win."
As an example of the incentives, they'll design and build a new website for your business for $3,000 and turn it around by February.  Need business cards designed?  They'll do a custom design for $150, including printing and sending you 250 cards.  They also have smaller incentives including t-shirts and a public thank you to explaining SEO and how to build a website.
Probably the best incentive if you're interested in becoming one of Serious Startups' projects, though?  Instead of paying $250 for them to review your idea, they'll do it for $100 through their Indiegogo campaign.
If that's just not in your budget, think about giving $5 for a raffle ticket.  Prizes include a website design and a 60-second video.  Check out their campaign, and review some of their work here.