What do a British-made china vegetable bowl, a housekeeping company, and the complete collection of Little House On The Prairie Books have in common? Actually, nothing at all, except that if you buy them on My School Swap, half their ad value will go toward helping American schools.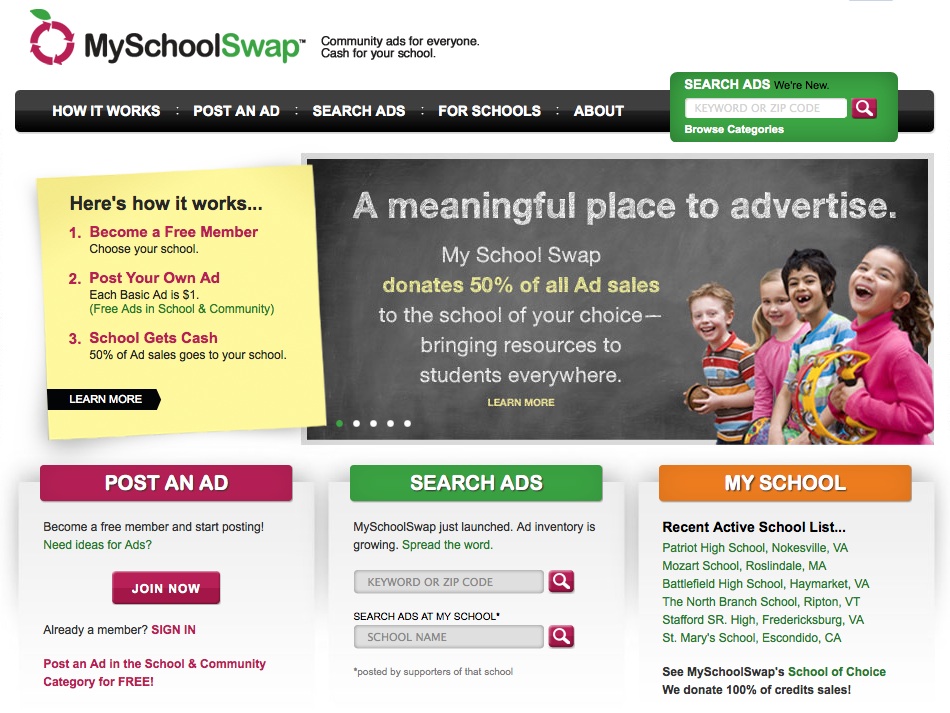 With hundreds of American schools falling in disrepair and billions in costs required to modernize the educational system, the social enterprise startup's aid could not come at a better time. Concerned parents and co-founders Cathy and Tim Shalvey were amazed to learn that 50 million new ads are posted on Craig's List each month.
"Many of these users must have some affiliation with a school," she says, " and I wondered how all of this could be combined into a valuable resource that benefits schools."
Based in Virginia, the former former graphic designer and business developer set out to create a useful communication network and resale marketplace that school members, parents and businesses can all use. Their business model is simple: for one dollar in ad credit, sellers can post a basic ad offering a service or selling a used item. The buyer can then select which school to send half the ad proceeds to, or pick the 'school of choice' spotlighted that day, which then receives 100% of the proceeds. The remaining money is used to maintain the website and help it grow.
The website offers more than just used figure skates and cookie cutters for sale. It houses a small but growing number of job, small business, handmade, professional service, vehicles, free stuff, and real estate ads. The school and community section, where parents can arrange carpools, peruse school event offerings, and catch up on the latest yard sales, is entirely free.
The Shalveys hope the site will build a stronger sense of community. With an expandable database of 134,000 public and private schools, each school has its own page for ads placed by supporters, yet ads get national exposure as they would on any other advertising website. "This creates a familiar and targeted environment for schools, parents and small businesses to buy and sell, exchange information to promote themselves, creating a stronger community," says Cathy. This includes providing services such as downloadable flyers, posters, logos and emails that schools can use to customize their fundraising programs.
Where do the Shalveys see My School Swap in 5 years? Born optimistic pessimists, they're shooting for 10% covered of their school database.
"If each school [of that 10%] has an average of 50 supporters who buy about $10 in credits, that would bring approximately 3.25 million to supported schools," says Cathy, "From a student perspective, that's 325,000 books at $10 each or 6,500 computers at $500 each. The potential of this program goes far beyond these estimates but the financial impact is easily understood through this lens."