Happy customers are vital to business success.
But what happens when you are losing customers? Many companies hire a team of analysts to track the trends in consumer behavior. But all this takes a lot of time and a lot of money, something that many small businesses can not afford. 

Chicago start-up Mineful is re-launching a new online platform to not only help businesses easily track customer trends, but also enable them to take action immediately when a customer is dissatisfied. Mineful is an online software that allows companies to integrate data from CRMs and e-commerce platforms, analyze customer trends, and utilize the communication tools to reach out to their customers.
The program analyzes the behavior of the customer- how much they shop, how often, how much spent, etc. And if there is an unusual trend, it alerts you so you can take action- send a coupon, call them, or turn a negative experience into a positive.
Some of the key features of Mineful include:
Automatic integration. It easily integrates with CRM and e-commerce platforms. There is no need for programming or coding. Analytical tools are also included.
Action steps.  Allows businesses to go beyond the charts and graphs, and take the next step by easily reaching out to the dissatisfied customers.
Alerts. Companies can be alerted to help them know exactly which customers show unusual trends.
Web application. There is no need to install anything. You can log-in from anywhere and collaborate with other people in your organization.
Different business model. Instead of the traditional license and service models employed by customer tracking software, Mineful focuses on a business model based on email marketing. The price of the software depends on how many customers you track.
Free Premium. If under 2,000 customers, it's a free service. If you gain more customers, then you move to their next level price plan.
During a recent interview with Jaime Brugueras, co-founder and CEO of Mineful, said that "the tool was created to help companies retain customers." Jaime has a PhD in statistics and has always been fascinated in understanding consumer behavior. "As a consultant, I worked with big companies, doing analysis on marketing information," he said. "We faced questions such as: Where do consumers spend their money? How do you create customer loyalty? How do you reach out to consumers? What types of messaging are best? How do we measure what's working or what isn't? Many of these companies had teams of analysts researching these questions and after all that time and work, you present the results and who knows what happens afterwards."
He realized there had to be a way to bring business intelligence that allows companies to take action right away. Not only that, the idea focused on bringing business intelligence to small businesses.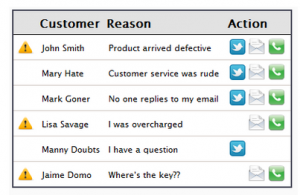 Many companies spend lots of time and money focusing on customer acquisition, but it may be more important to focus on customer retention. Bain & Company found that, for many companies, an increase of 5% in customer retention can increase profits by 25% to 95%. The same study found that it costs six to seven times more to gain a new customer than to keep an existing one. Having happy customers coming back is key to success.
Jaime Brugueras and his co-founder Jose Rubio started Mineful over three years ago, but are now relaunching their new product. "One of the mistakes we did early on is take on any project and develop an application for that. What ended up was a feature-rich application that was very custom but very hard to use. It collected and analyzed data, but the only people that were using it were consultants who new what they were doing," said Brugueras. "So we realized 3 key things: 1) We need a focus. 2) We need to solve a specific problem, and 3) we need to make it really easy."
Currently Mineful is looking to raise a seed round of investment of about $500,000. They are also looking at possibly joining an incubator. Their current goals include getting some further traction by acquiring new customers and getting funding. Soon they hope to hire some key engineers and analysts, develop greater infrastructure, and create a sales and marketing unit.
Mineful will be presenting their product during TechWeek on Monday 7/25 at 12:30 pm in the main conference room. Make sure to check them out!