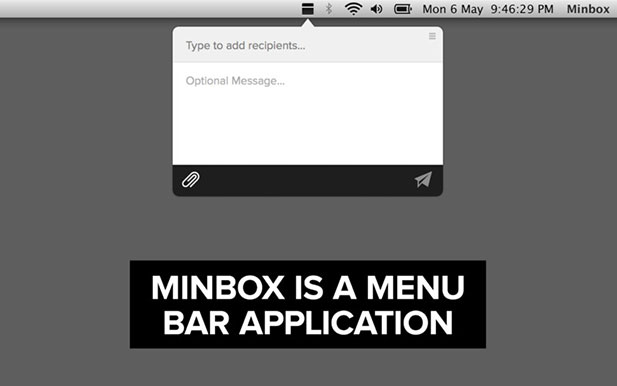 One of the biggest issues many of us face regarding our email accounts is the inability to quickly and easily send a large file. Thankfully the folks at MinBox heard our cries and are here to rescue us!
Minbox is a new file sharing service providing lightning fast speed and super easy functionality. It was founded in 2012 by Alexander Mimran and Michael Lawlor, the duo that previously founded Penzu, and it has already received $800,000 in seed funding so far. Unlike Dropbox and other cloud file sharing platforms, Minbox does not require you to wait forever for the files to upload, allowing you to send files of any size and any type quickly and efficiently. Another key feature is that Minbox is easily accessible and stays in your menu bar. All it takes is a little drag and drop, adding recipients and pressing send – that's all there is to it.
Additionally, Minbox supports multiple simultaneous uploads, RAW photo file support, a photo gallery for viewing shared photos, and even scheduled sharing. Currently, Minbox offers a basic and free service and a pro subscription is in the works, slated to launch over the next few months.
After checking out some reviews and forums, common complaints seem to be about trust, not function. Can we really trust a new company with corporate or sensitive files that are then pulled to their backend? This leaves some room for security risks, privacy issues, etc.  It's amazing for sending birthday party photos to your grandma, but maybe not so great for those client files you need to send to a co-worker. Only time will tell.
Check out their not so professional launch video….
So, what do you think? Give us your feedback.