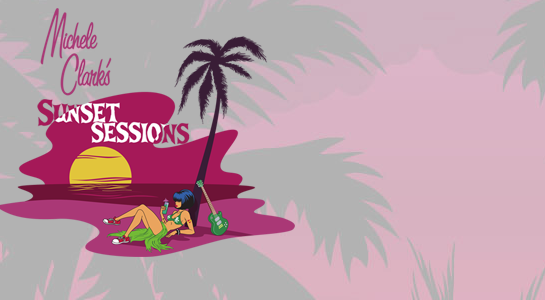 Michele Clark has been a music entrepreneur for more than 25 years. She began her career as a radio promoter in 1988. Her own event – "The Sunset Sessions" – is now in it's 17th year.
She has built a career around finding new artists and helping them become superstars.
The 20th Sunset Session is this week from June 6 – June 8, and is one of the most innovative events of its kind, Clark said. It's a music event that brings members of the industry together including radio promoters, managers, record companies and booking agents.
Some of the alumni of these sessions include The Black Keys, Third Eye Blind, Carlos Santana and Ziggy Marley, just to name a few.
"My job was to give music a chance and give artists a chance to be heard," Clark said. "If the public loves them, great. I couldn't make the public love a song, I could just give them a chance"
Clark was a music entrepreneur before the idea of entrepreneurship in music was fully-baked. Music schools now teach entrepreneurship as the industry has grown more competitive. Every artist, to some degree, needs to know the business of music.
And technology has made it that way, Clark said. This is because artists have more platforms to share their music on. But this also makes it hard to gain critical mass.
Like most entrepreneurs, Clark saw a demand in her industry and strove to fill it. The Sunset Sessions is the only music festival that brings together a diverse set of "taste makers and gatekeepers" of the music industry for one very specific goal: To find new talent, and bring them the audiences they hungrily need and deserve.
Clark draws her audience of music experts by paying their expenses to travel to a destination spot such as St. Thomas, Bahamas or Atlantis. "Come with open ears and open heart. Help me discover the superstars of tomorrow," she tells them.
Most events such as SXSW, CMJ and Triple A often fail to put bands in front of the people that need to hear them.
This is because when a band is playing, the crowd consists of people that already appreciate the music. All new radio promoters and managers are off in their hotel rooms or having meetings with bands they're already comfortable with.
At the Sunset Sessions, Clark takes roll call to make sure the audience is listening, and giving fresh, new talent an honest chance. And beyond the music, Clark keeps a series of panels at each event to talk about trends in the industry.
She said her career hasn't always been easy in breaking new bands. Back when she first heard Jack Johnson, she had to "scratch and claw for every ad on that album." And not every band she's covered has made it to critical mass.
Still Clark has seen tremendous success, breaking and popularizing bands such as Matchbox 20, Maroon 5 and Hootie and the Blowfish – some names we still hold popular today. She is now working with a band called the Parlotones – "the biggest band of all time in South Africa" just getting ready to make it big in America today.
So Clark just may be the person to talk to find out what's happening next in popular music.
But she also might be a person to talk to about following your passion. The beautiful thing about the music industry, she said, is that everyone is in it for the passion.
She is an example of someone who had a passion her entire life, and her career came into place because of it – From when she was hopping out of her window at 16 to listen to bands on the Jersey Shore and sharing the music with her friends up until today, running each sunset session, helping music industry titans find the next big thing.
"I feel like I was successful in my business because I didn't know I couldn't," she said. "No one said I couldn't, so I believed I could. I wasn't smart enough to know that there were so many obstacles."
And even if she saw the obstacles in advance, again, it's passion that moves her and others in her industry forward.
"The evolution of the song onto an album," she said. "Then onto the radio, and then see people love it and respond to it – that's why we all do it."