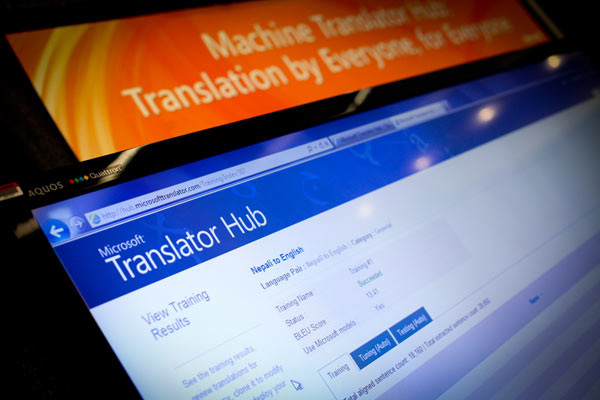 Hot off the heels of a Ukranian team's sign language translating glove winning Microsoft's 2012 Imagine Cup, the software giant has unveiled a new language translation hub that will enable users to create entirely customizable translation engines. The Microsoft Translator Hub is capable of being taught the nuances of any language, providing a much-needed resource for preserving languages in danger of extinction.
Microsoft announced the availability of the new system at this week's Worldwide Partner Conference. The Translator Hub will be accessible on an array of devices, including mobile, utilizing the company's Azure cloud service to store the custom language translations. The company's new service utilizes "machine learning," a technology that Microsoft has been working on for over a decade.
"The purpose is to put creation, improvement, and deployment in the hands of users," said Kristin M. Tolle, Director of Microsoft Research Connections.
To help the service learn their language, users will upload "parallel documents" to the Translator Hub. These documents allow the system to pair the two languages using algorithms that compare the contents within. The more parallel sentences provided (Microsoft suggests upwards of 40,000), the more complex the translation engine will become.
According to the company, the team behind the Translator Hub was inspired to create an adaptive language service after the tragic Haitian earthquake of 2010, when aid workers and victims encountered a troubling language barrier in the wake of the disaster.
The Microsoft team has so far worked with Hmong and Nepali speakers, the younger of which were often unable to fluently speak their own language. Even in its early stages, elders amongst the Hmong community were able to receive surprisingly accurate translations using the Translator Hub, according to Microsoft. The ability to host all of the translation data in the cloud allows disparate communities to come together in one space and perfect the online model of their language.
Microsoft is hoping to make the Translator Hub just as valuable for businesses as it has been for helping communities preserve their languages. Websites specifically will be able to use their own language engines created in the Hub to translate user-generated content cost-effectively on-the-fly. A recent case study with Lionbridge, a language localization service, saw a notable increase in translation accuracy when using custom translations created with Microsoft's Hub.
If you've got a project you think will be worthy of the machine learning technology, stop by Microsoft's Translator Hub website to petition the team for your cause.
Image credit: Microsoft