At an LA press event today Microsoft unveiled its much-rumored tablet, which has repurposed the Surface name to brand a new series of Windows devices. The company announced that the 10.6 inch tablet will be separated into two tiers, each running Windows RT and Windows 8. The Windows RT version will come in a 32 and 64 GB models, while the Windows 8 Pro will feature storage space up to 128 GB. Both models have rear and front-facing cameras, a single USB 2.0 port, HDMI out, and a unique cover that Microsoft hopes will set the Surface apart from the crowd.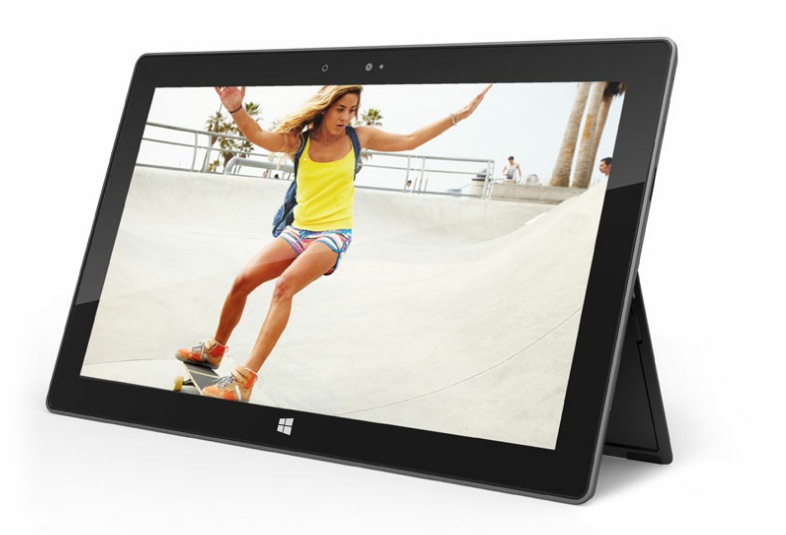 Microsoft spent a great deal of time showcasing the Touch Cover, which is placing the new Surface right in the middle ground between netbooks and other tablets on the market today. The ultra-thin cover doubles as a touch-sensitive keyboard and trackpad, allowing consumers to use their tablet like a laptop when they need to get some serious work done. Microsoft said the touch sensitive buttons also detect pressure, so there's no need for users to peck and hover their fingers above the keys.
Though it wasn't mentioned during the press event, the move to create a tablet device of its own makes perfect sense given the company's big focus on SmartGlass, the company's new second-screen experience for the Xbox console, showcased at this year's E3. SmartGlass will allow a user to receive additional information about whatever content they're consuming, whether it's a video game, TV show, or movie, on a mobile device. By releasing its own tablet, Microsoft will be able to have a company-branded product at the forefront of the new technology.
It's clear that Microsoft is looking to tap into a market that's grown weary of the myriad tablets available today. With the emphasis on Surface's Touch Cover, the company is catering to users who are looking to do more serious work on a mobile device, in addition to all of those fun novelty uses that come with touch screens.
Neither the release date or retail prices of the Surface line of tablets have have been announced, though Microsoft says the final price will run in line with tablets on the market today.