Oregon Scientific recently announced MEEP!, an Android-based tablet aimed at kids 6 and older. It looks rather like any other tablet, aside from the rubber grips on either side of the screen and across the back, which come in an assortment of different colors. The tablet is made to be extra durable, so parents who have been too afraid to let their kids run wild with their iPads won't have to be concerned about that extra strain children put on their devices.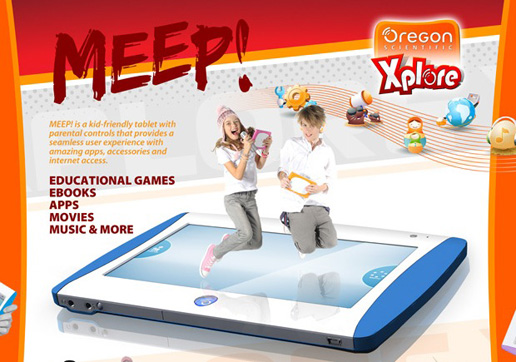 MEEP features a 7-inch color touch screen, an SD card slot, and a g-sensor, allowing the tablet to be viewed upright from any side. The tablet supports parental-restricted web browsing via Wi-Fi, access to music, movies, ebooks, and apps. Support will be extended in the future through USB accessories like musical instruments (the website specifically shows a microphone, drums, and a keyboard).
One of the tablet's biggest kid friendly feature are its parental controls, which can be remotely accessed from a computer to update restrictions and settings, or monitor internet activity. With all of these features it's a little surprising that the MEEP lacks any kind of camera, at least from what the press release details. Its omission might be a response to concerns about children sharing pictures on the internet, or perhaps simply left out to reach a certain pricing point. Either way the MEEP tablet seems like one of the most viable and safe steps toward giving your tech crazy kid a device all their own, providing enough freedom for children to be creative and just enough security options keep a parent's mind at ease.
The MEEP tablet was shown off for the first time at the Toy Industry Association's 109th American International Toy Fair in New York City over the weekend. Details of pricing and further specifics have not yet been revealed by the company, though their homepage offers the ability to signup for future newsletters and announcements.