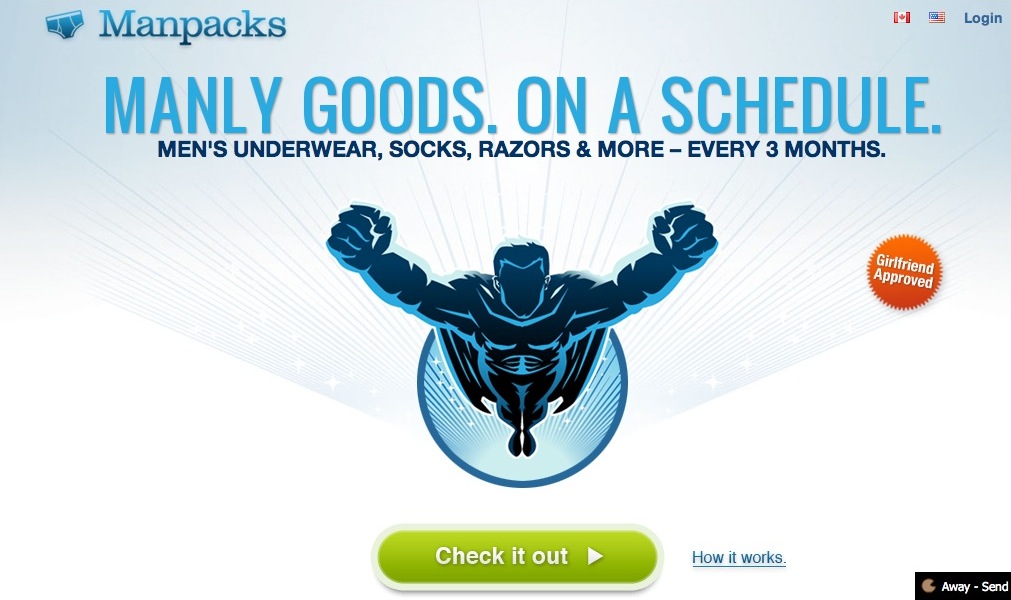 THE GIST: Manpacks doesn't have to do a whole lot to win over this big, beefy heart. It's a service that eliminates the tedious and often forgotten errand of gathering a man's essentials. Instead of having to remember to buy fresh underwear, a new toothbrush, some new t-shirts every so often, Manpacks gives you the ability to customize a shipment that is mailed to you every three months with these essentials and more, eliminating the headache of having to remember how long it's been since you bought a new pair of socks. After a single click on their homepage you're taken to a really simple selection of items to fill your Manpack, which at first takes only 3-5 days to arrive. Items range from underwear (boxers and briefs), shirts, socks, shaving items, condoms, shampoo, and multivitamins, to name a few. They even have a section for the little man with boys socks and underwear. I picked some items I'd want updated quarterly and the total came to about $50. Imagining paying that, without the hassle of going out and searching stores for the essentials every so often, seems both reasonable and appealing. Maybe after my next paycheck I'll have to order a Manpack of my own.
FOUNDERS: Manpacks was founded by Andrew Draper and Ken Johnson.
BACKSTORY: In their early 20s Johnson and Draper played music together, touring and at one point created their own record label. Johnson said Manpacks was created to support another project the two former-bandmates were working on, an automated booking service available to musicians on tour. He admitted that "any business plan predicated on charging musicians money was flawed at best." When coming up with ideas for backing their service, the two joked about having underwear show up at their door every so often. "When we found the manpacks.com domain available our fate was sealed."
We launched a basic site in January of 2010 with just a few Hanes products – underwear and socks. Total investment was $500 and 100 hours of our time. We had like ten customers by the end of the month. Then, in March, someone posted a link to our site on HackerNews and everything went crazy. Next thing you know, we're on ESPN radio and Nascar is calling us to sponsor race cars. Fast forward a couple years and we know way more about underwear than the average guy.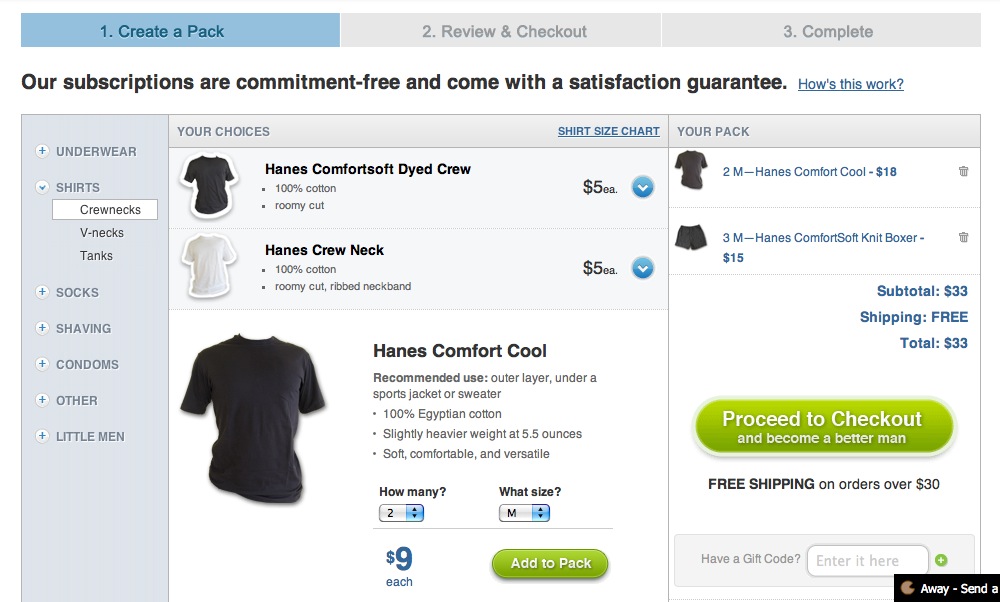 INVESTORS: "Dan Martell was the first to commit during our fundraise. After seeing Dan's text message simply stating 'I'm in,' Dave McClure backed us with 500 Startups–called the office on the spot and gave them the news. We added these guys on AngelList and got a ton of intros, eventually closing our round with Venture 51, Kima Ventures, and several angel investors involved."
BUSINESS MODEL: "It's retail e-commerce that is driven by our own interpretation of the subscription model. Our customers are in full control, and can modify, rush, or delay shipments at will. And they only pay for what they buy, so there is no set recurring fee."
ON THE COMPETITION: "We aren't selling fashion, and we are only selling men's products. As such, we offer a streamlined, simple shopping experience for guys who need everyday essential products but don't want to be bothered much with it."
INSPIRATION: "Solve a basic problem for guys, and make some money doing it."
ON THE KIND OF MAN WHO USES MANPACKS: "Our customers tend to be forward-thinking, ambitious, and feel like they deserve a service like ours whether it's to save time shopping or to treat themselves with premium products once in a while."
FUTURE ITEMS FOR MANPACKS: "We recently added shampoo. Next up, deodorant. We're just taking it one product at a time, because there's value in keeping our store uncluttered with too many choices."