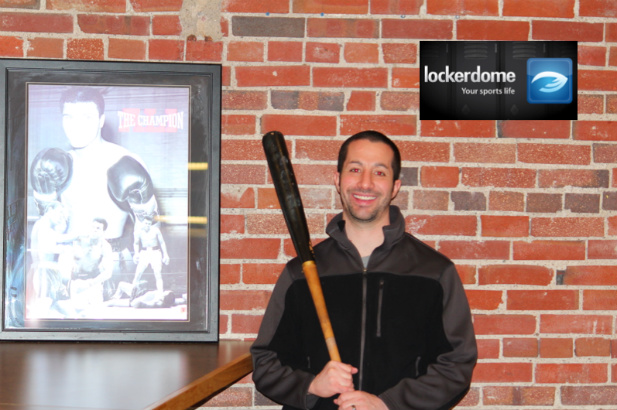 "Someday, I'll even tell you how many total pageviews we have. Probably not though."
The fastest growing sports site in the world, (and hottest St. Louis startup) LockerDome, just closed a $6 million round of funding and also just blew past 10M monthly unique visitors to its website.
"We are the most capital efficient online sports startup in history," said Lozano, "and that is a credit to how hard our team works. We outwork everyone."
Gabe Lozano is a startup entrepreneur's entrepreneur- he isn't interested in all the kudos currently coming his way and has his head squarely set on his shoulders. While we talked about LockerDome's growth, Lozano put the startup's current success in perspective with one of his better known stories about getting started.
"My Mom wouldn't create a profile on LockerDome when I was building it in her house," says Lozano, "and before we ended up in this space, (Lockerdome's downtown 6,800 sq. foot office) we had 17 different office locations over the years." I asked him which was the least 'office-y' and he said, "Well, we needed an office space with wifi where we wouldn't be disturbed, so we used to camp out on the couches at SLU and WashU's law school. People there tend to study a lot and not bother anyone, and it was free."
On hitting 10M unique monthly visitors, Lozano was equally calm: "We tend not to celebrate much- we are always focused on growing bigger."
We talked further about LockerDome's early days and early team members. Many startups often have employees willing to work for free as they try to get their brands started and investors often look at the team running a startup- is the CEO able to get other people to throw in and follow them? In Lozano's case, the answer was yes.
Lead Architect Nick Apperson is a perfect example of the leadership demonstrated by Lozano as he built his team. "Nick and I met at a WashU event and ended up arguing about Facebook for three hours," said Lozano. "Some of the things we discussed were proven with time, and it gave Nick confidence in who I am."
Apperson went on to start on a project basis and worked for subsistence rates while he explored a working relationship at LockerDome. "Nick came back to me after we got to know each other and told me exactly what he needed to live, which wasn't much," said Lozano. "He asked me to pay him in stock for anything over that small survival amount, which turned out to be a very good deal for him considering our current value."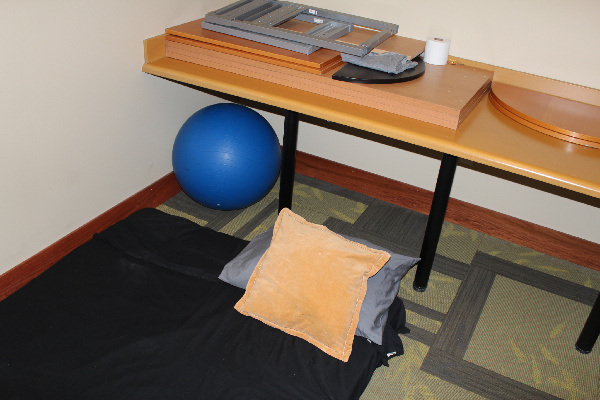 Mattress? Check. Medicine ball? Check. Pillow? Check. Get 3 hours & get back to work.
"Our attitude is a practicality thing," says Lozano. "Arrogance is limiting. When people say 'Congrats!' to us, we just say 'we still have a long way to go.'"
The deal couldn't have gone better for LockerDome. Their round was oversubscribed in eight days time, and they ended up raising six million dollars from a diverse group of investors, including (among others) Bill DeWitt (managing partner and chairman, St. Louis Cardinals), Cultivation Capitals' Growth Fund, 5x NHL All Star Chris Pronger and Square's own Jim McKelvey.
LockerDome was offered a total of $18 million in investment but took six. Lozano is still turning down offers of more money- there is a "steady stream" of investors wanting to get in on the deal. "I'm doing it it very politely and with much gratitude," said Lozano seriously. "It is humbling to see the interest of so many investors."
From the official press release:
Official brands and networks represented by LockerDome include NFL superstars Troy Polamalu, Larry Fitzgerald, Maurice Jones-Drew, Antonio Brown and Marshawn Lynch; MLB All-Star Felix Hernandez; baseball legends Pete Rose and Wade Boggs; and NBA stars Blake Griffin, Rudy Gay, David Lee and Stephen Curry, among others.
When discussing revenue, Lozano is tight lipped. "While we are doing very well with revenue, I don't really like to talk about revenue numbers because we are really focused on accelerating our growth. It's clear we can make money because we are doing it. As we grow our base of users, that number will continue to grow as well."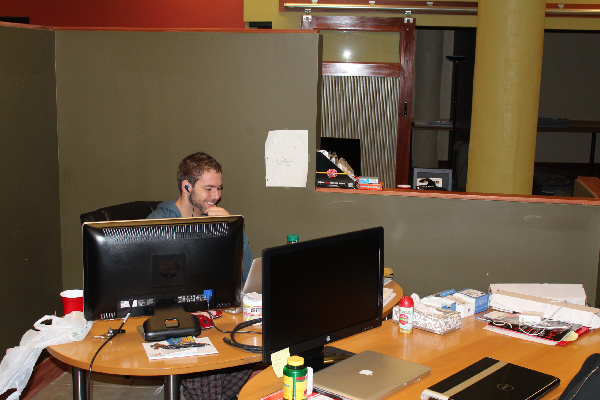 This photo shot on a Saturday. Note the pajama pants, and LockerDorm behind workstation.
When evaluating Lozano's claim his team works more than others, take the existence of "Lockerdorms." Theese are rooms with sliding doors in the LockerDome offices that double as hotel rooms for the employees. Many times, the LD team works 20 or 30 hours straight and then will crash for a few hours in one of the Lockerdorms, get up and then get back to work.
Coupled with LockerDome's fast growth is the strong partnerships they are making with major league athletes and brands. LockerDome inked a deal with USA TODAY SPORTS last month. "Evidence of our success is also shown in the number of athletes that want to work with us," said Lozano. "LockerDome is the most efficient way for an athlete to interact with their fans."
LockerDome is going to be hiring in the near future- in March alone the team is looking to add five new hires. Interested? If you are, you better be good at what you do, and if Lozano is an example, humble too. LockerDome is looking for developers, activation team members and a sales team.