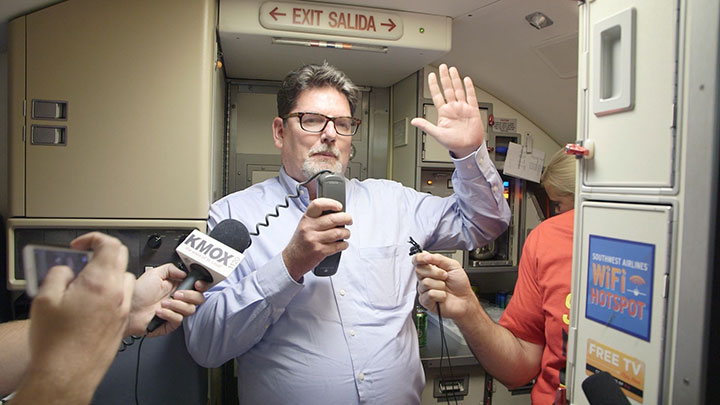 SAN FRANCISCO – A group of 21 startup companies from the area headed to the San Francisco Bay area in unusual fashion Tuesday evening on the first ever nonstop flight from St. Louis by Southwest Airlines.
Approximately halfway through the flight, a Southwest Airlines representative got on the intercom and announced that  five of the companies on the trip: Juristat, RoverTown, Pixel Press, aisle411 and Better Weekdays would each have the opportunity to pitch their companies for two minutes on the airplane via the flight attendant intercom. Following an introduction of the companies by Aaron Perlut, one of the trip's organizers, each company gave a quick two minute presentation on their company.  Following that, people on the trip had the opportunity to vote on the company they would most likely invest their money.
Following several rounds of voting, both aisle411 and Better Weekdays won the pitch competition. The presenters for the competition, Matthew Kulig and Chris Motley, respectively, received a $75 voucher for Southwest Airlines.
Most of the companies on the trip will be staying until Thursday. Some of the companies will be seeking venture capital while others will be looking at opportunities for expansion. Many of the companies were Arch Grants recipients or were graduates of local accelerator programs such as Capital Innovators or SixThirty. Moreover, the biosciences incubator BioGenerator sent six companies on the trip.
The trip was organized by Accelerate STL, a partnership with the St. Louis Regional Chamber and the St. Louis Economic Development Partnership that connects area entrepreneurs to investors and other resources to help grow their business—and Washington University in St. Louis, which continues to drive a deep commitment to innovation through a number of programs including the well-known Skandalaris Center. On Wednesday evening, a dinner hosted by Washington University will take place as part of an effort to connect the startups on the trip with the university's alumni and other St. Louis entrepreneurs in the area.
The event began with a sendoff party at Lambert Airport gate E16 – where the entrepreneurs and other trip goers bonded over copious cupcakes and an orchestra, and was also attended by former U.S. Senator Kit Bond, who was instrumental in helping to launch the direct flight. As part of that event, St. Louis Regional Chamber President Joe Reagan told those in attendance that while many of today's most well-known brands, such as tech giants Apple, Google and Facebook have come out of Silicon Valley, it doesn't mean the next great startups can't come from elsewhere, including the St. Louis metro area.
"Great startups start all over the world, and St. Louis has a rich history of entrepreneurial success, and has been the launching point for many of America's biggest and best companies including Enterprise Rent-A-Car, Anheuser-Busch, Express Scripts, just to name a few," he said prior to the flight.
Reagan told Techli that a couple of years ago, Southwest Airlines approached the Regional Chamber as part of discussions about trying to build out a more robust network. He said that a when asked about where there would be new demand for flights, the Regional Chamber, among others, recommended San Francisco due to the growing need for the St. Louis tech scene to have stronger access to the area.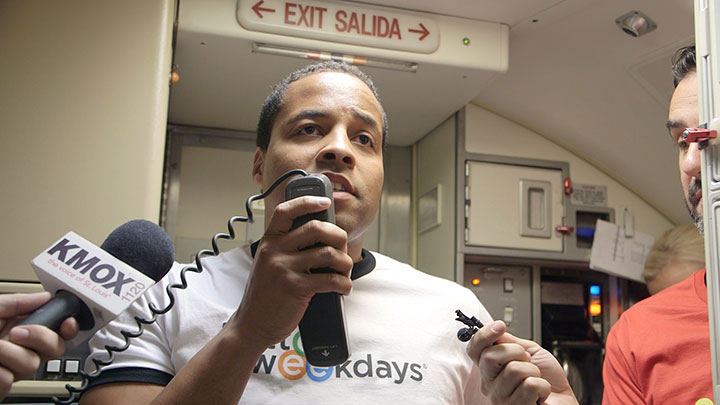 Overall, Reagan said that there were two major goals for the trip. One was to provide an additional opportunity for 21 startups to help meet whatever milestones they are looking to achieve. Moreover, the trip was another opportunity to help promote both the new service to San Francisco and the entrepreneurial community at large.
"There are a lot of great thing happening in the entrepreneurial community here in St. Louis," Reagan said. "What a cool way to promote it."
Robin Rath, the CEO of Pixel Press, which allows people to build video games through drawings on paper, said he had three meetings each on both Wednesday and Thursday (which for some of the other entrepreneurs on the trip would be considered a light schedule), with a combination of both partner companies and venture capitalists. He said he frequently comes down to the San Francisco area, along with Los Angeles and Seattle, which are generally considered hubs for the videogame industry. The new direct service to San Francisco now makes Rath's travel life a little less hectic.
"Trips like these are another great opportunity for me, along with fellow entrepreneurs, to come out and get some face time with strategic partners and investors, which is very crucial in helping our businesses succeed," Rath said.
For more information regarding Accelerate STL, please visit http://www.acceleratestl.org.