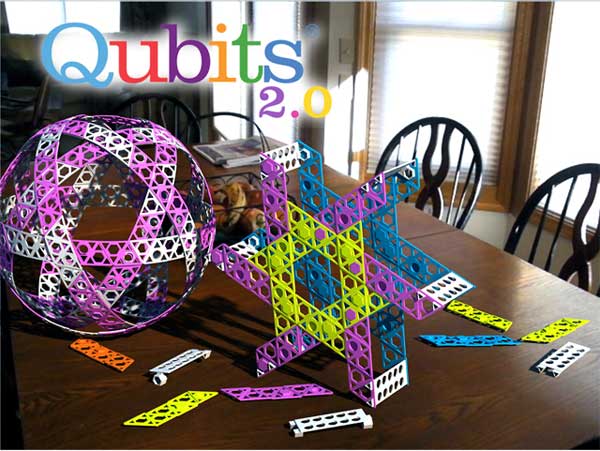 THE GIST- The Qubits Toy Company Toys knows that toys influence children, hopefully Qubits® will inspire todays children and help them expand their horizon to include architecture, engineering, chemistry or perhaps even nanotechnology. Winner of the 2011 British Airways Face2Face Worldwide Business trip, appeared on ABC's Shark Tank 2010. An Indie Toy Maker currently funding on Kickstarter as the first plastic injected toy to use the crowd funding website.
FOUNDERS- Mark and Lisa Burginger
BUSINESS MODEL- Produce and distribute a construction toy on the internet, direct to customers. Typical retail mark-ups.
COMPETITION- "Somebody named Lego."
WHEN/WHERE- Currently located in Bend, Oregon – launched Dec. 2007
INVESTORS-  Currently a family owned business.
INSPIRATION- "I created a geometry called, "The Modular Form Building Element" – like the geodesic dome by Buckminster Fuller I patented the development – then decided one day to make it into a toy."
What's the coolest thing you've ever built with the Qubits?
"Not too much actually, the first version could only construct a 15 ft. tower – the new version will go much, much higher."
In your opinion what's the best perk you offer on Kickstarter?
"Well the three pack for $75 would be a great buy if we exceed our initial $15,000 goal – Discovery Toys last year sold a single kit of first version toys for $60 ea + shipping. They managed to sell 5,000 kits at that price. Our Kickstarter price blows that out of the water."
[vimeo id="34444889″ width="600″ height="350″]