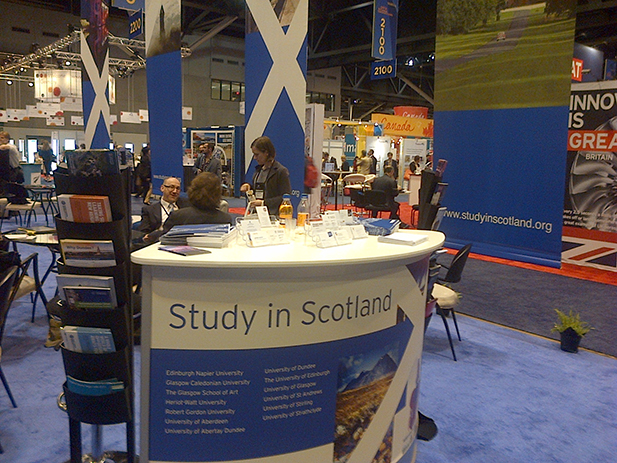 This week, educators from across the globe invaded St. Louis for the 65th Annual NAFSA Conference and gathered at the America's Center, under the shadow of the Gateway Arch, to chart their national pathways to the future of education. More than 8,200 education, immigration and foreign policy experts from more than 120 countries networked, built connections, drank IrnBru and heard from notables such as Kofi Annan, former Secretary-General of the United Nations, and Oscar Arias, former President of Costa Rica.
In 2011-2012, Missouri was home to more than 16,000 international students, who contributed more than $417 million to the local economy. Across the US as a whole, more than 674,000 international students are in the US each year, and more than 273,000 US students are studying in other countries. The largest concentration of US students studying overseas is found in the United Kingdom, which encompasses England, Scotland, Wales and Northern Ireland.
"We are promoting Britain as a study destination," Lee Harris with the British Council and the GREAT Britain program said. "And we are working to increase student mobility between the US and the UK, and elsewhere." The Council, under the leadership of the British Government, was working with 16 English universities also in attendance.
According to Harris, they have short term goals of connecting the UK and the rest of the world through educational means, and also the long term goals of building good will, improving perception and creating long term "alumni" connections with those who study in the UK.
The Scottish Government and Scottish universities were also in attendance, and were serving the Scottish soft drink IrnBru to attendees.
"Internationalization is hugely important today, so it is vital to have links," Thomas Ozers with the University of Edinburgh said. "And we have a big push in Scotland encouraging Scots to go abroad as part of their degree."
As a side note, Scotland is the only country in the world where Coca-Cola is not the number one selling soft drink. In Scotland, IrnBru holds that honor, and the Scottish attendees were seen networking over glasses of the Scottish nectar.
The UK visitors were also impressed with St. Louis.
"St Louis has been really great to us," Joey Kirk with the British Council said. "It's easy to move around and the people are really kind."
"I really like St. Louis," Ozers said. "I didn't know what to expect. The City Garden was the highlight, and the Washington University campus was beautiful." Ozers also enjoyed spending time on the Delmar Loop and, of course, up in the Arch.
"St. Louis is great!" Bill Roberts with the NAFSA Conference said.  "People are friendly and supportive. Fabulous restaurants. A great place to hold a convention."
You can learn more about NAFSA at www.nafsa.org, more about the British Council at www.britishcouncil.org and more about the Scottish outreach efforts at www.studyinscotland.org.