The following is a guest post from James Agate, the founder and SEO Director of Skyrocket SEO — an international SEO consultancy that works with startups to help them become the next big thing.
I think if I could bottle the essence of a startup, I would. I'd be selling the stuff by the container load… an effortlessly cool culture matched by passionate employees, a great product or service and a dedicated tribe of first adopters who want to help the founders make the business a success.
Startups have several things in common:
A low/non-existent budget
Brand new websites with low domain authority
Completely new product offerings or propositions (read — zero search volume)
These all present unique challenges and advantages to the person responsible for tackling SEO. Some say that SEO just isn't necessary for startups. I can't say I agree. Granted, most startups don't need the kind of SEO that people think of when they hear the word 'SEO.' Sadly the industry has got a bit of a bad rep, but that's another story. Most startups do, however, require the new kind of SEO campaign; the kind that leverages great content, interacts with social media and generally provides an attention platform for the fledgling business.
Rand Fishkin, of SEOmoz fame, puts it so eloquently when talking about Yelp and how they did SEO right when they were just starting out…
"SEO is a strategy – If you're just thinking in terms of keywords in the title and submitting to some directories, you're going to get lapped by someone who understands how to make content, links, sharing & search demand an integral part of how users interact with their website."
Thanks Rand, and I want to start by reiterating: Don't waste money on crappy links
Cash is probably tight so keep hold of it. Yes, your website is new and your business is just starting out, but you don't need some crappy link package that is full to bursting point with directory submissions and social bookmarks. You've got great content, a tribe and a stellar product on your side so leverage them and search traffic will come a lot easier. And if you follow the steps outlined below, your startup is going to end up in a much stronger position down the line.
Think technical, think structure, think content
It is far better to bake SEO into the startup from the outset. Get everyone thinking about SEO right from the word go. Search is still the biggest source of traffic and in my experience it is still the highest converting source. Regardless of how cool your product or service is, there is going to come a point where you need users and customers. Search and social are the way people are going to find out about your startup so begin intertwining your SEO and your business plans. If everyone working on the project is thinking SEO, it means opportunities aren't missed and decisions that could have a detrimental impact on search engine accessibility or performance are avoided.
When I say 'think structure', I mean think and plan a logical structure to your website that ensures content is easy to reach, the navigation is usable for site visitors and everything is technically sound. You can read the ultimate guide to on-page optimization I wrote for WebDesignLedger for more details on the technical side of things. In terms of structure and content, these are inextricably linked. I recommend planning and building out hubs of content related to your startup and what you do as a business.
MyDish.co.uk, a UK based online recipe startup, has done an excellent job of organizing the mass of content the site's founders and the community have produced.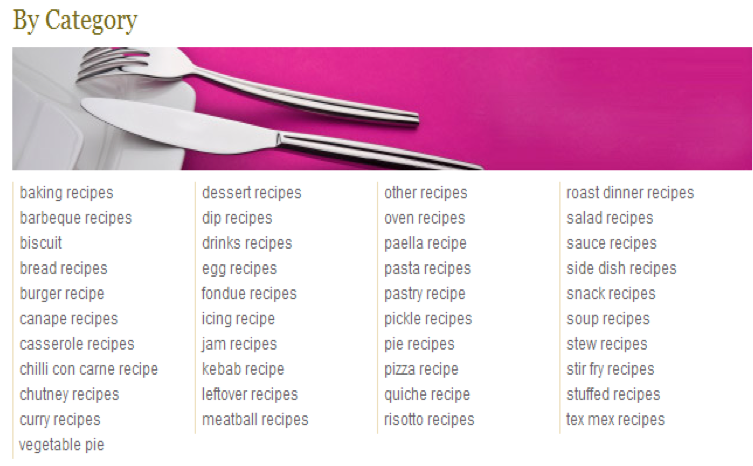 Not only are they doing a superb job of building out their content but they are leveraging it very well also — everything is technically sound (SEO friendly URLs for example), they've clearly researched their market and are targeting some great keywords, they've started to implement rich markup to some of their recipes, the site has great usability and their internal linking structure is superb.
Even if there isn't content you can produce that is directly about your product or service, there will almost certainly be content you can create around your focus area. This is still just as likely to engage people that are potentially interested in what you are doing because the subject areas will be so closely related.
Think gamification to build a community
SEO is as much about building a community these days as it is about building links and writing content. A community will serve you far better than some crappy links that your competitors might have. A community will remain loyal to you, will very often willingly assist with your content and unknowingly with your SEO efforts, and will help you to grow your user base now and in future.
So how can we get a community started and how can we encourage them to take action to do all these things once we have them on board? One word – Gamification. To gamify something is about encouraging users to engage with your website on a much deeper level by deploying game mechanics such as a user points system with leaderboards, competitions and much more besides.
Bigdoor and Punchtab both allow you to add game-like functionality to your website. Obviously a more custom solution in the long term is going to provide the best results but both of these solutions are superb and suited to most types of startups.
Two startups that are really killing it with gamification are SEOmoz and Codecademy.com. SEOmoz has been leading the way by building a community that is fuelled by mozPoints which can be earned when users perform certain desirable actions like contribute content or refer a friend who signs up to SEOmoz. Codecademy.com by contrast does a great job of getting users to engage with their content by leading people through steps and levels as if it were a video game — creating a unique educational experience in the process and making learning how to code actually addictive.

Monitor brand mentions
Certainly one of the most important things you can do is to monitor the conversation around your startup. You need to hear about all the positive and negative stuff people are saying about your project. Monitoring mentions will ensure you don't miss opportunities for a link, a follow-up, to resolve an issue or just to engage with one of your new followers (remember, build that community).
There are multiple free and paid ways to understand the conversation around your business. My personal favorite solutions are Google Alerts (free — although social media monitoring is a little lacking) and Hootsuite (paid — comprehensive social platform monitoring). My recommendation is to use both — setup to monitor brand mentions and keywords related to your startup because you never know when you will get the opportunity to interact with someone who needs what you do.

Get into the habit of checking your analytics
Every day that passes means you have more data at your disposal which can help you to shape your website, your content and even your product.
I'd like to end by saying that SEO for startups is and will always be a work in progress. Let your strategy develop with your business but whatever you do get started right away. Like the product that never even makes it to beta, procrastinating with SEO can kill a startup. Reading blogs is fine but make sure you implement what you read otherwise you're just reading.
Good luck — I'm happy to answer any questions in the comments below.