"I think I want to build a business because I saw my parents do it," was Matt Gornick's answer when I asked him why he splits his time between running a company and working at a startup.
"I love solving problems and helping our customers," he continues. "I just got off the phone with a customer earlier today. It was amazing – he gave me great feedback and insight. After the call, I emailed one of my partners and said 'If we can have 100 customers like this, I will die happy.'"
Matt is updating me on the progress of his startup, OrangeQC, at a table in Portillo's – a Chicago restaurant chain well-known for its italian beef sandwiches and hot hogs. The restaurant started in 1963 with a single hot dog stand known as "The Dog House." I know this because a picture of that hot dog stand is on the wall of most (if not all) Portillo's I visit. Today, Portillo's is the largest privately owned restaurant chain in the Midwest.
I've known Matt for a few years; I met him while practicing pitches for a business plan competition in Urbana-Champaign. We were both competing in the Cozad New Venture Competition, me with a piece of software that made it easier to schedule part-time employees, and Matt with an iPhone and web app that helped janitors track the cleanliness of a building. We both made it to the finals, which showed our ideas had some merit, but my first thought about Matt's business was "Who cares about janitors?"
Then Matt began to pitch. He talked about how antiquated the technology in the Quality Control industry was. He told us the systems that checked the cleanliness of hospitals and military bases were decades old and extremely difficult to use. He explained that in order to sell his product, he didn't approach hospitals and military bases directly, but instead went to the contractors that maintain these sites and got them to include his software on their bid. He also talked about his competitors.
"Our main competitor is paper," he stated in his pitch. The other software in his field was so expensive that not many people were using it. Janitorial staff or their managers just walked around and checked boxes on a sheet of paper. Subsequently, the data from this pen and paper exercise was hard to keep track of, much less analyze.
The judges loved it. Matt had found a problem in a space that was ripe for disruption, and he was solving it in a smart, cost efficient way. Apparently customers loved his product too, because OrangeQC was already making money. They took first place in Cozad.
"I rejected my internship at Goldman Sachs and decided to stay in Champaign for the summer to work on  OrangeQC," he said. His parents invested a couple thousand dollars in OrangeQC to help pay the bills, and Matt, along with his partner Ryan Matthews, spent the summer building software and talking to customers.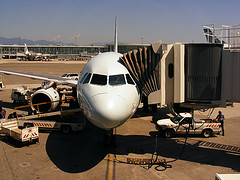 Over the course of the next two years, OrangeQC built up its customer base to include a major airport in Europe, a large airport in Texas, a portion of the Chicago Public School System and the University of Chicago Medical Center. After refining their product with these big customers, they are ready to tackle the industry full force.
"Recently, we've been focusing 95% on development and 5% on sales. Now we are going to focus 95% on sales." Matt and his team are hitting the ground running, attending conferences and figuring out how to get their name out there. "We are going to these conferences, and we are by far the youngest guys there."
At the end of our talk, we speculate on OrangeQC's — and Matt's — future.
"Do you think there will be a point where you will have to go full-time with OrangeQC or it will fail?" I asked.
He sits for a moment to think.
"With a bootstrapped business you can't really fail," he finally says. "You can only stop working on it. With a VC-backed business there are a ton of ways to fail – most involving running out of money. There are people who say that building little businesses are shit, but when you look at the people who say it, it's usually the VCs. If they can benefit from more Facebooks, of course they are going to want more Facebooks."
"On the other hand, take Portillo's. They started with a small hot dog stand and a few good products. Over time, the owner built it and it grew into this."
He gestures to the large restaurant we are sitting in.
"That's what I'm focused on — building a business."
Image Credit: abdallahh