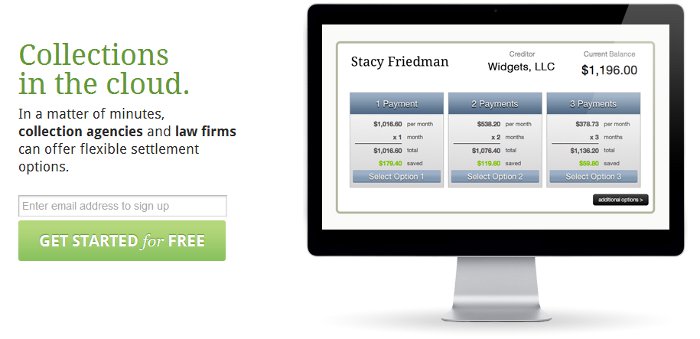 Debt collection is an ugly subject. Detroit-based startup HealPay hopes to make it a little less so —and to make debtors feel empowered — with their flagship collection service, SettlementApp.
The system, said co-founder Erick Bzovi, is "designed to make it easier for consumers to pay their bills. By giving consumers options to pay over time or in advance for a discount, businesses see a higher conversion rate."
The problem they set out to solve was one of accounts receivable. Client creditors — mostly collection agencies and attorneys, as well as some financial institutions and commercial real estate firms — direct debtors to the SettlementApp traffic portal, where they are given a choice of targeted payment plans. If all goes well, more people choose to (and are able to) pay up.
Still, debt collection can be an ethical and emotional minefield, which is one reason HealPay works with original billers as well as third-party agencies.
"We typically avoid the word 'debt' because of all the negative connotations associated with it," Bzovi said.
The venture came together after co-founder Lancelot Carlson, who had been consulting for a collection agency, started to talk with Bzovi, who had previously worked in advertising technology — where he said he became "enthralled" with ad server technology — about the possibilities of online bill payment.
Struck by how behavioral targeting can yield higher click-through and conversation rates, they decided to see if the same techniques would work with billing – and even debt collection.
"We have seen that when you present a consumer with targeted payment options you see higher conversion rates," Bzovi said. "Data drives our technology and we think [that's] what really sets us apart from other payment portals."
The software also fits into a generally pro-cloud trend, with more businesses moving towards online bill payment.
Also inspired by the challenges of entrepreneurship (if the city of Detroit were a startup, Bzovi said, it would be "a bootstrapped one at best") the duo has developed BillerApp, which lets small business owners easily send out invoices.