On January 24th, 2012, Google rolled out their new comprehensive privacy policy just weeks after revealing a new controversial search engine update 'Search plus Your World'. The company claims that this new privacy policy will merge over 60 separate privacy agreements across dozens of products into one uniform policy. Over the past week users have been notified about this change in a variety of ways including on Google's homepage, Gmail, and even mobile search.
With the rapid transformation of Google's search and privacy settings, some users are seeking out different ways to make searches on the Web. Although Google empowers users to turn off personalized search, this extra step makes the process of searching more complicated and cluttered than it needs to be. One of my favorite search engine alternatives is DuckDuckGo, a slick search engine that doesn't track your searches or lock you in the "Filter Bubble."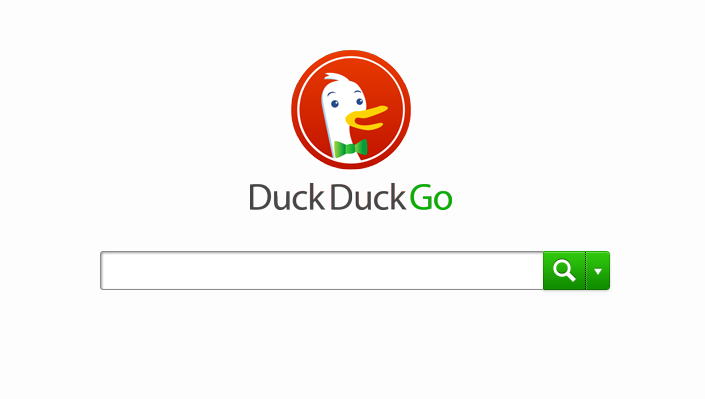 "DuckDuckGo tries to offer a real alternative in Web search. To do so, we focus on things the major search engines don't do, not generally for technical reasons, but for culture, business and legal reasons. Those focuses have been real privacy, way more instant answers, way less spam and a less cluttered user interface. We believe that these things add up to an overall better search experience, but see for yourself!" said Gabriel Weinberg, CEO of DuckDuckGo.
I've been using DuckDuckGo for over a year. The simplistic design, accurate search results, and witty branding remind me of the early days of Google; when search was simple. By attempting to remain revelvant Google's pivot towards intense personalization has effectively destroyed their core product. Essentially Google took a simple product and overcomplicated it by attempting to remain revelvant in a social media dominated world.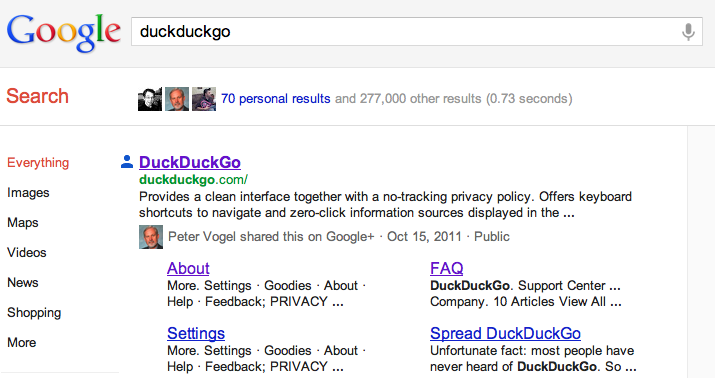 When I asked about Google's new social search engine, Mr Weinberg said "we haven't seen much compelling evidence that personalized social search produces better results, and so have generally stayed away from it to date." Weinberg has a vision for simplicity in search that Google fails to grasp. Search is a generalized notion with an end goal of finding valid information. By adding a layer of social personalization Google effectively adds a "friend bias" to results. If you miss the old days of bubble free, tracking free, and friend free search; give DuckDuckGo a try.