Harvard engineers have recently received a $2.6 million contract from DARPA to develop a combat-ready smart suit that will help soldiers fight fatigue when carrying heavy equipment on lengthy operations. The project will be developed by the Wyss Institute for Biologically Inspired Engineering at the university, combining several of the institute's technologies to create a novel body support system.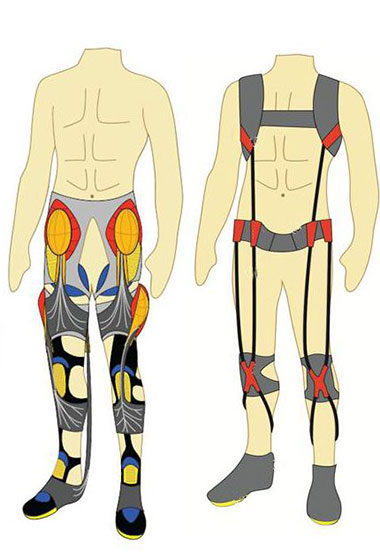 Similar systems today require the use of rigid mechanical parts in close proximity to the the body. According to the Harvard announcement, the planned smart suit will be made up entirely of soft, flexible materials, aimed to leave the wearer with absolute freedom of movement. In order to best help soldiers in the field, the smart suit will be capable of allowing military units to comfortably carry more equipment for longer periods of time.
The new support system will be capable of measuring biomechanical signals of the body, detecting and appropriately responding to physical slowdown in the user. In addition to helping the wearer fight fatigue by reinforcing joints and muscles in the legs, the smart suit will help prevent injuries caused by longterm physical strain and even help the wearer balance as they travel by "providing low-level mechanical vibrations that boost the body's sensory functions."
Harvard's new support system isn't only for the battlefield, as engineers are hoping to extend its applications to elderly and handicapped civilians. A wearable system like the smart suit could greatly increase the mobility of many physically impaired individuals by enabling them to traverse much smaller spaces than wheelchairs or even upright walking aids allow.
Engineers at Harvard's Wyss Institute will collaborate with professors from MIT and Boston University's College of Health and Rehabilitation Sciences during the upcoming project.
Fellow Massachusetts innovators Boston Dynamics have been working on rugged all-terrain robots to help shoulder the soldier's equipment burden on the battlefield. One of its largest autonomous robots, titled the BigDog, navigates rough terrains on four legs and can carry loads of up to 340 lbs. The Boston Dynamics BigDog project is also funded by DARPA.
Image credit: Wyss Institute