Google rolled out a handful of new features and updates to news aggregator Google News this week, mostly designed to introduce more content from Google Plus to the site, in line with the company's massive push to integrate social aspects to its wider product family.
Changes – which will be introduced to the U.S. Google News over the next week, and which can be turned off on the settings page – include larger images on the main page, a "realtime coverage page" for each developing story, and the introduction of Google Plus comments on the Google News main page.
"Many news stories inspire vibrant discussions on Google+, and today we're starting to add this content to both the News homepage, and the realtime coverage pages," wrote Google News product manager Scott Zuccarino, in a blog post. "This way you can see what your circles, journalists covering the story and notables like politicians or others who are the subjects of stories have to say about breaking news, and even contribute to the discussion directly from Google News."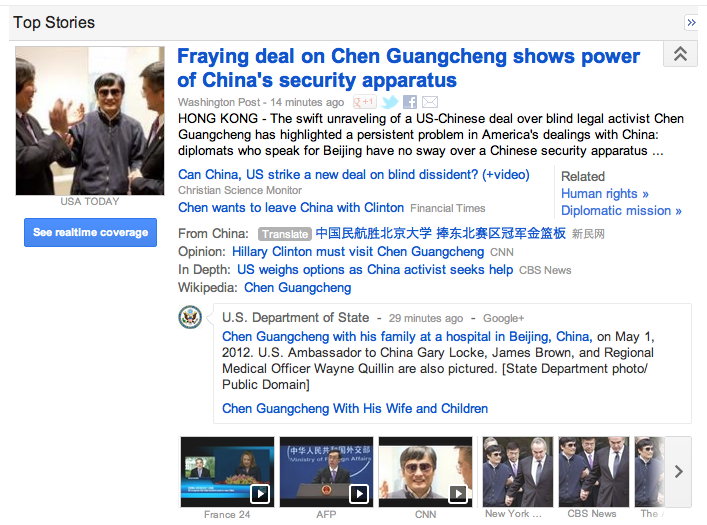 This latest development in the relentless saga to twist existing Google products into the Google Plus framework prompted some predictable eye rolling, but Google is arguably too invested in the social networking model now to back down – and it could eventually work, at least from the company's perspective, and even if users are annoyed by the ceaseless efforts to homogenize the Google experience.
"Today's updates are the latest examples of how we're working to provide users with a beautiful, consistent experience across Google," Zuccarino wrote.
Google is also trying to streamline its products' uses around Google Drive, an online file storage service with functionality similar to Dropbox, but integrated with Google Docs, YouTube and other company services. Drive, though, has met criticism for what some believe to be overly broad language in the terms of service agreement that could, in theory, allow Google to claim uploaded files for its own use.
The realtime news feature updates a story thread automatically with new print and video coverage, and photographs. Google News is already pretty clever at sifting stories into the right ongoing topic, so a realtime feature, at least, seems like a welcome update.