Aug 24th, 2014 – Today at the Cortex Innovation District in St. Louis, GlobalHack II  awarded the $50,000 cash prize to the team, 'United Hackers' (Prize money courtesy of OGSystems).
United Hackers was made up of, Sean Kooyman, Boris Polania, Andy Mulchek, Bernard Mallala, Brett Miller and Mavrick Goodrich. (Yes, his name really is Mavrick, and yes, it's spelled that way).
While accepting the check for $50,000 on behalf of United Hackers, team spokesman Goodrich told the crowd,  "We were six individuals that came to GlobalHack not knowing each other, formed a team and we're incredibly excited to have won." (To see the kickoff from Friday, go HERE)
Presenting the check to the winning team was GlobalHack II sponsor OGSystems CEO, Omar Balkissoon.  "This has been a great experience.  We were told about GlobalHack by one of our employees, and after we found out about it, we were immediately excited.  This is great for us as we expand our footprint in St. Louis"
OGSystems is headquartered in Virginia, with several offices around the country, including St. Louis.  They specialize in Department of Defense (DoD), Intelligence Community (IC) and commercial systems development and integration.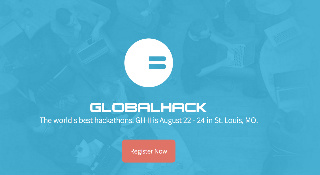 In February at the first GlobalHack, CEO Jim Eberlin of prize sponsor TopOpps ended up hiring 11 of the competitors. (Techli covered GH 1 HERE) When asked if he planned on hiring any of the competitors from GlobalHack II he responded, "Absolutely.  We are thrilled at the level of talent we saw this weekend in St. Louis."
Prize sponsors aren't the only ones interested in hiring.  Gabe Lozano, CEO of Lockerdome and cofounder of GlobalHack (with Drew Winship and Travis Sheridan) made an announcement prior to the winning team being announced.  "Because we are growing and going to continue putting on kick ass events like this one, we want to hire someone to run GlobalHack full time.  If anyone is interested, please contact us."