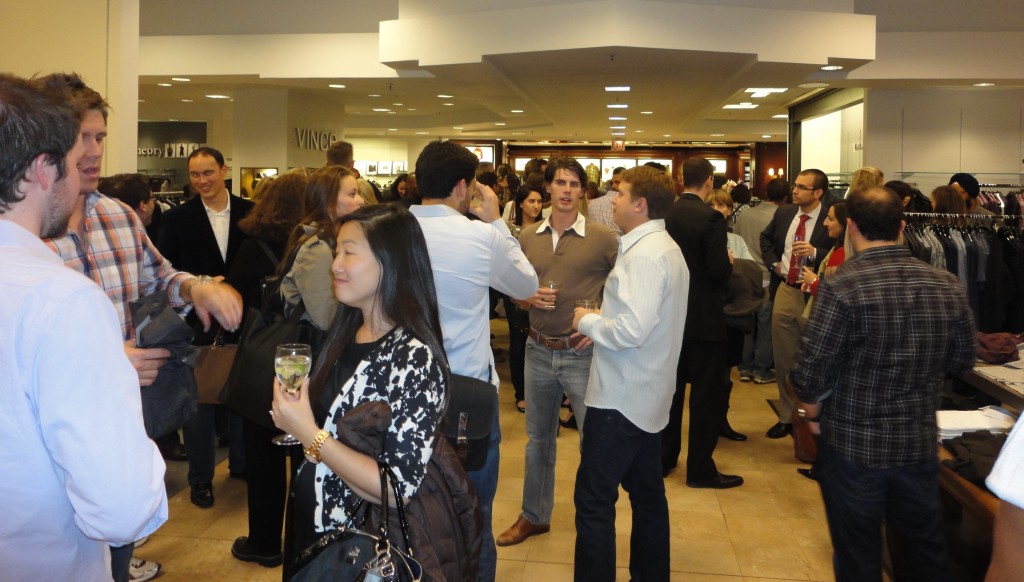 What do high-end fashion and bootstrapped entrepreneurs have in common? At a glance, nothing. Involve a few great organizations and a techie fashion event is born.
This past Wednesday saw some of Chicago's brightest tech talent strutting their stuff and working their best Zoolander-esque pout at the Geek2Chic fashion show, held at Bloomingdale's Michigan Avenue location and sponsored by Bloomingdale's in conjunction with Microsoft. The purpose of the evening was not just to get some of these fine gentlemen out of the entrepreneurial standard of a rumpled (promotional) t-shirt and jeans, but to bring the spotlight to the Network For Teaching Entrepreneurship, or NFTE, which upholds the worthwhile goal of providing programs "that inspire young people from low-income communities to stay in school, to recognize business opportunities and to plan for successful futures."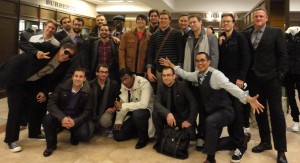 The list of models is long and their talents diverse; the runway sported entrepreneurs like Tech.li's founder Edward Domain, Josh Hernandez of Tap.Me!, Mark Lawrence of SpotHero, Seth Kravitz of Technori and Zak Boca of SingleHop, making Chicago's startup scene well represented. According to Mark Drapeau, Executive Producer of the event and with the Microsoft Office of Civic Innovation in DC, "models are not strictly entrepreneurs, in DC we have a couple of guys that are award-winning teachers […] it just so happens that Chicago, this particular show, we have a lot of founders. In reality we picked cool guys with community involvement and leadership." This showed that the startup community here is strong in support of each other and the talent to come. The boisterous cheers of the crowd showed how cool our entrepreneurs are here in Chicago.
The participants seemed to think so too. As Domain put it, "It was an honor to help raise money for a good cause and as a result I'm looking forward to working more closely with NFTE going forward. Microsoft has really done a great thing by putting on this event and in supporting some great kids."
The NFTE event was launched in 2010 and evolved organically. Microsoft opened a store next door to a Bloomingdale's in Chevy Chase, MD – they wanted to find a way to work together and so when Bloomingdale's was looking for help putting on a Star Wars-themed fashion show for Lucas Arts, who else could they turn to but the geeks next door? While not everyone may know the difference between Burberry, Burberry London and Burberry Sport, I defy you to find a flaw in a Geek's Boba Fett costume. The event was a success and a mutually beneficial partnership was born – and NFTE got a fun vehicle for fundraising, greater recognition and wider awareness of what they do.
NFTE (pronounced 'nifty', which I cannot help but be charmed by) has an office in Chicago, a partnership with Chicago Public Schools, and boasts a string of success stories achieved through the help of their programs. The winner of the 2009 NFTE Chicago Citywide Business Plan Competition, Zoe Damacela, went on to take second place nationally, earning her a meet-and-greet with President Obama and contributed to her full scholarship at Northwestern University. All because she enrolled in the NFTE course at her high school.
In addition, Microsoft has one of their 12 retail stores here. However, they plan to open 75 more over the next couple of years, so the Geek2Chic fashion show is also an opportunity, explains Drapeau, "to meld philanthropy, our citizenship, with our consumership…in a way that other companies can't really do." The event sported all sorts of Microsoft goods to play with, from the Kinect and Xbox systems to smart phones. That is why everyone was there – recognition in a new market – something that startups often seem to be struggling with. From the way the crowd was dressed, there were definitely some fashionable folks the likes of which you will not be seeing at the next hackathon, but they left with personal knowledge of locally grown products and apps.
The sold out event was a success for NFTE and Microsoft. 100% of the ticket proceeds go to NFTE programs as well as 10% of purchases from the Bloomingdale's Men's department during the course of the evening. Though I truly admired the gorgeous Paul Smith tie Edward sported, the $150 price tag meant this particular gal was not bringing it home to her husband; I did see plenty of those trademark brown shopping bags gracing the hands of guests, so everyone managed to go home happy.
For more information on NFTE programs, visit their website.