A Massachusetts-based developer says it's prepping to release a device, about the size of a pack of cigarettes, that can recharge your mobile devices two dozen times on one powerup.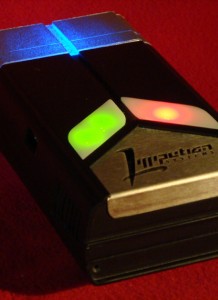 The device, by Lilliputian Systems, is a fuel cell – a power supply that harvests energy from fuel by a chemical process. It runs on recyclable butane cartridges that, according to one report, will cost about $5.00.
"Countless surveys, focus groups and research reports have shown that current and near-term battery technologies are incapable of satisfying the growing consumer demand for portable power – a fact that any smartphone user already knows," said Lilliputian vice president of marketing and business development Mouli Ramani, in a press release. "This new power system will transform how consumers use their CE devices; they will never have to hunt for a wall outlet or run out of power midday again. It's like having a plug in your pocket."
Predictably, the gadget will be sold at Brookstone, a Skymall-like retailer known for stocking automatic neck massagers, head-mounted displays, remote control helicopters, and other hobby electronics. Spokespersons for both companies are hammering home the increasing power demands of modern smart phones and the limited capacity of even the most sophisticated battery packs.
"Today's Smartphones use much more power, increasing the need for a more efficient way to recharge when on the go," said Brookstone vice president of merchandising and product development Steven Schwartz. "Lilliputian's groundbreaking technology provides power, wherever and whenever you need it. This breakthrough aligns well with our commitment to innovative solutions that make life easier."
The silicon power cell for the device will be manufactured in Hudson, Massachusetts by chip maker Intel. Initial research was carried out at the Massachusetts Institute of Technology.
It's not clear whether the company has any plans to develop the intuitive next step, a fuel cell with the form factor of a mobile phone battery that could keep the juice flowing for weeks.
Bafflingly, the company says the device has been approved for air travel by the United Nations International Civil Aviation Organization and the U.S. Department of Transportation. According to the Boston Business Journal, the device is expected to cost between $99 and $199 dollars.
Image: Lilliputian Systems