With the advent of Britain's Industrial Revolution in the late 1800s came outcries from local artisans, now penniless with their jobs outsourced to machines. Today, emerging 3-D printing projects such as RepRap, Fab@Home, and UltiMaker could soon unleash a second industrial revolution, this one rendering many factories obsolete. Instead, the bulk of manufacturing could be done in the comfort of one's home, and a broken piece is just a download and print away.

RepRap is a project aimed at creating open source, self-replicating 3D printers. The software is licensed under the GNU free general public license. With four models currently on the market, hopes remain strong that the machines will expand across the world.
In 2008, a RepRap printer produced the first end-user product, an iPod clamp for use in the Ford Fiesta. The system's unique, self-replicating nature meant to mimic evolution means that a "parent" machine can create a "child" machine, which can in turn create a "grandchild" machine.
That same year, the first "in the wild" replication occured, meaning the creation of a child machine outside of those made by developers or the project itself. By 2009, the newer model, "Mendel" was able to replicate its circuit boards as well as its frame.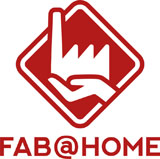 Fab@home is an "open-source mass-collaboration developing personal fabrication technology aimed at bringing personal fabrication to your home." Members of the collaboration develop their own software, hardware, as well as databases to house potential designs for use by the digital printers.
Begun in 2006 by Hod Lipson and Evan Malone of the Cornell University Computational Synthesis Laboratory, the project has since expanded to a network of  hundreds of inventors, engineers, artists, students, and hobbyists across the world.

Like the RepRap models and the fab@home concept, UltiMaker is also an open-source 3D printer.  The UltiMaker can print objects using ABS and PLA plastics. Compatible on Linux, Mac, and Windows, the free ReplicatorG software includes the RepRap-created SkeinForge program, an addition which allows the designer to change all the printing parameters.
Users of the 3D printers can download various designs to print off of websites like Thingiverse, a free database of user-uploaded things ranging from a headrest headphone system for your car, a DSLR table dolly, to a [not] rubber ducky.
Chris DiBona, the open source program manager at Google, completed my own thoughts when he said, "Think of RepRap as a China on your desktop."