I was born in the 1980's. It was the decade in which Gordon Gekko proclaimed, "greed is good!", teens were mallrats, and shoulder pads helped ring in the decade of the power woman. Community was put on the back burner as individual successes became the marker by which economic strength was judged. There's a reason why the children of the late 80's are called the "Me Generation".
Although the 90's ushered in the DIY ethos of the slacker generation, the economy was still buzzing along. Wearing secondhand clothing was less about necessity and more about looking like your favorite Seattle guitarist. Borrowing your neighbor's bike or trading a case of beer for a home project wasn't formalized via a marketplace. All you had to do was call up your buddy on a (shocker!) landline and the deal was done.
Everything changed with the global economic collapse of 2008. Young people who had been raised in a future of unprecedented abundace suddenly couldn't find jobs, afford first houses, or score funding for their businesses. Even almost 4 years later, aftershocks from the crumbling economy continue to impact market places, and not in a negative way.   The global economic collapse has allowed for a new economic model called collaborative consumption to take hold and dominate in the startup world.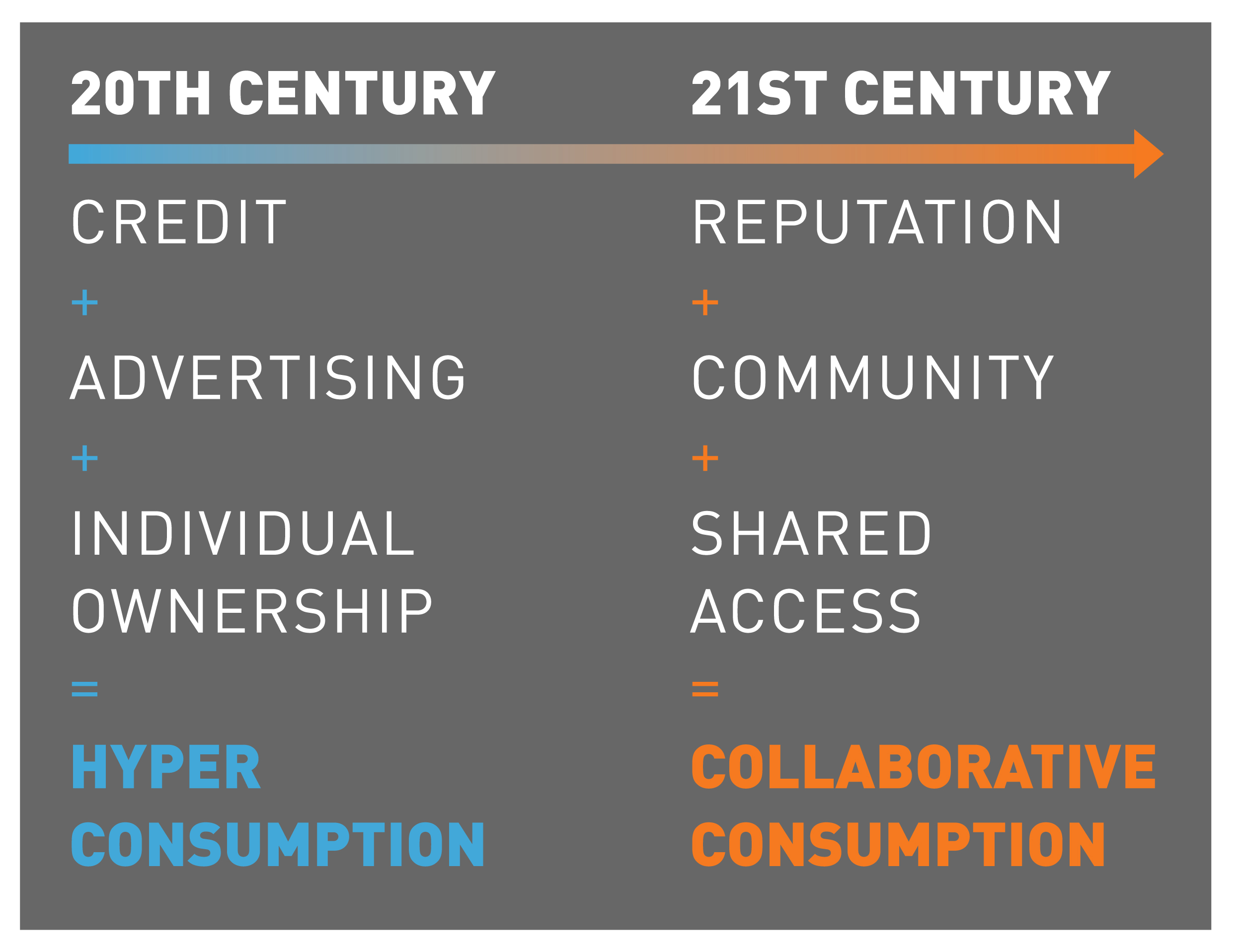 What is collaborative consumption?
Collaborative consumption is the act of sharing, bartering, swapping, or reusing good and services. Although analog examples of collaborative consumption like brick and mortar resale shops are reasonably successful, digital marketplaces are blowing up thanks to the network effects of social media. After all, internet culture is fundamentally about sharing. Whether people are sharing music files, wifi, or information about themselves, user behavior on the web revolves around common experiences.
According to Rachel Botsman and Roo Rogers, authors of the book What's Mine Is Yours: The Rise of Collaborative Consumption, there are three categories of collaborative consumption:
1. Product-service systems enable products like DVDs, cars, books or homes to be rented;
2. Redistribution markets are exchanges for used items including clothing;
3. Collaborative living services broker relationships for individuals with service providers.
Since the dawn of the internet, marketplaces for sharing have transformed the way we do business with each other as friends and neighbors. This timeline shows the evolution of collaborative consumption marketplaces:
1995
Craigslist was founded in San Francisco by Craig Newmark as a Bay area events email list.
1999
Casey Fenton conceives the idea for CouchSurfing after finding a place to crash after a random Boston to Iceland flight.   Fenton emailed 1,500 students at the University of Iceland asking for a couch to sleep on and he received 50 responses.
2000
The first ZipCars hit the streets of Boston thanks to cofounders Antje Danielson and Robin Chase. ZipCar was based on an existing European business model.
2003
The CouchSurfing.com website launches.
2007
Chegg, a used textbook marketplace, launches at Iowa State University thanks to college students and cofounders Aayush Phumbhra and Osman Rashid.
2008
The global economic crisis shakes citizens across the world as credit dries up and the fate of the modern banking system is uncertain.
The "Netflix for handbags" startup Bag Borrow or Steal makes an appearance in the Sex and The City movie thanks to Carrie's assistant Louise, played by Jennifer Hudson.
Recycled Bride is founded in Santa Monica by artist Tracy DiNunzio. Cashing in on the recessionista trend, Recycled Bride connects buyers and sellers of gently used wedding attire and accessories.
Airbnb, a marketplace for  launches thanks to co-founders Nathan Blecharczyk, Brian Chesky, Joe Gebbia.
Leah Busque founds TaskRabbit, a hyperlocal marketplace for neighbors to buy and sell tasks after realizing late one night that her dog ran out of food. Leah thought about how great it would be if she could pay someone to purchase and deliver the dog food for a fee. Thus the idea for TaskRabbit (formerly RunMyErrand) was born.
2009
Harvard Business School classmates Jennifer Hyman and Jennifer Fleiss rent out dresses from their closets to test a formal dress rental idea. The test was so popular that the duo founded Rent the Runway, a service for women to rent stylish designer gowns for events.
2010
New York based LooseCubes, a marketplace for sharing office space, is founded by Campbell Mckellar upon returning to New York after spending the summer working in Maine.
2011
Hyperlocal buyer and seller marketplace Zaarly wins Startup Weekend LA and secured $1 million in funding 3 weeks later.
ZipCar goes public.
Peer-to-peer car sharing marketplace Getaround wins Techcrunch Disrupt and scores a $50,000 check after dazzling the judges panel with their pitch.
An Airbnb host claims that her apartment was turned into a meth lab and that her identity was stolen after renting on Airbnb.  The incident highlighted the safety implications of peer-to-peer marketplaces and now is held up as a cautionary tale of collaborative consumption gone wrong.
CouchSurfing ends its non-profit status and raises $7.6 millon to become a corporation. There is an early backlash from longtime users.
2012
To date, more than 50 million people in the US alone have used craigslist, which currently gets 30 billion page views per month.
ZipCar had 650,000 members and cars in 28 North American states and provinces.
TaskRabbit launches an API to third-party developers.
Chegg launches a mobile reader for online textbooks.
What are the main concerns with the collaborative consumption business model?
Although the timeline shows just how successful the this new business model is, there are still key concerns that need to be addressed if the future of collaborative consumption is going to grow to contend with traditional markets:
Safety  – Concerns about the safety of renting a car to a stranger or meeting  someone to complete a task at their home are valid. The Airbnb meth lab incident sent shockwaves over the web as the founders of the company were slow to respond to the user's pleas for help. Since the incident, Airbnb has added a safety page to their site, along with a $50,000 host guarantee to cover excessive damage like vandalism.  Some startups are addressing safety concerns by verifying users via their Facebook accounts, but Scaffold co-founder Sam Rosen isn't buying it. Scaffold is an identity and reputation verification system for the web. According to Sam:


Facebook verification is not enough. There are three layers of trust with these sites. The first layer is that you are who you say you are. The second is that you are generally a good person, and the third is you are a good person within the given marketplace. Right now, there is not enough feedback on the third level. With Scaffold, we are kickstarting the bottom layer. We make sure that you are who you say you are via a series of online and offline background checks.

When summing up the overall issue, Sam notes:

The problem for marketplaces is a few bad apples spoil the bunch.

Buyer and Seller Ratio – Recycled Bride founder Tracy DiNunzio let brides list their first item for free to get initial products. Marketplaces always have a chicken and egg problem. If there is nothing to buy, then no one will come to the site. If there are no buyers, than sellers will lis their items somewhere else.
Getting people to understand the collaborative consumption model – Odile Beniflah, Senior Product Manager for european ride sharing startup carpooling.com notes the cultural differences between the US and Europe when it comes to sharing:


We are launching in the US where there is currently a narrow view of ride sharing. We want to change that. One of the biggest problems in the US is that ride sharing is viewed as hipster. We forget that the users who need this service the most are the people that need the money. The stick to a budget and they want to share what they have.
What is the future outlook for collaborative consumption marketplaces?
Collaborative consumption is the new normal. As more people experience the economic and emotional benefit of sharing resources, their odds of using multiple collaborative consumption marketplace sites will likely increase.
Have you used a collaborative consumption startup? If so, which one?