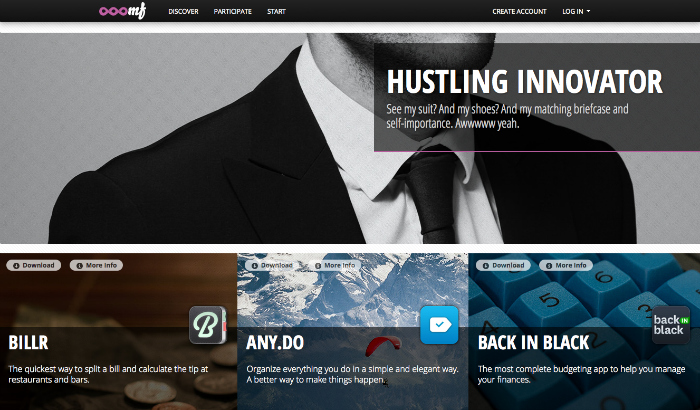 What happens to the thousands of apps that launch each day in the app store after their debut? Even if a developer manages to wrangle a few hundred downloads from friends and family, apps that do not have a high number of actively engaged users are doomed to fall off the top charts, never to be discovered again.
Thanks to a new startup called ooomf launching its public beta today, app developers can now start building a fan base before their product launches, guaranteeing a higher number of engaged users downloading the app when it is goes live in the app store. ooomf is a platform that allows developers and users to collaborate on important UX decisions as the app is being built.

"Because there's over 600,000 apps it can be so frustrating unless you know exactly what you're looking for," said Mikael Cho, co-Founder and CEO of ooomf. "It's just browsing icons and ratings. There's no magic. But if you thought this was bad for someone trying to find an app, it's far worse for someone trying to sell one." ooomf's mobile app discovery platform helps developers market their
applications and allows users to discover and participate in the creation of mobile apps, whether the app is just an idea, coming soon, or already in the App Store.
The Montreal-based startup is a recent graduate of the Spring 2012 FounderFuel Accelerator Program, and just secured $500,000 in seed funding to further develop their platform.
ooomf founders previously worked in the world of digital agencies, where mobile is the number one priority of large global brands. "The resources that were dedicated to marketing apps would be expensive and the results never matched up," noted Cho. Although the founding team originally entered the accelerator program with an idea to develop a product around influencer marketing, the team soon realized that drawing upon their memories of the broken systems in agency work gave rise to more compelling problems to work on.
Dominique Bélanger, Director, Strategic Initiatives and Investments at BDC Venture Capital calls ooomf "a fine example of the Canadian startup ecosystem coming together to support one of our best tech hopefuls." BDC VC provided ooomf with $150,000 in the form of convertible notes during this current round of financing.
"We want to help developers take their app from idea to app store, notes Cho. Now that all app developers have a chance to try out the public beta starting today, Cho and his team have the opportunity to make this goal a reality.