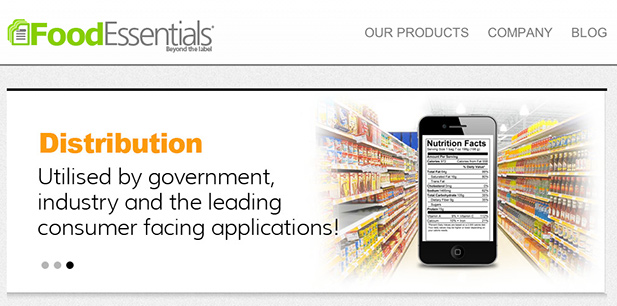 With a booming startup scene here in St. Louis, we're finding success around every corner thanks to the many exciting entrepreneurs right here in our backyard.  FoodEssentials is one of those start ups that is consistently proving that statement right!  Today, they announced that Cultivation Capital is investing $500,000 in their company, and their future couldn't look brighter.
Peter Esparrago, General Partner at Cultivation Capital commented, "The market validation FoodEssentials has received from the FDA, retailers, and technology partners has given them significant positive momentum, and we believe FoodEssentials will continue to lead the way in the food information space."
And continuing to lead at the forefront of this industry is exactly what they intend to do.  Started in 2004, FoodEssentials is working hard to make food label data accessible to brands, developers and government entities.  Essentially, they are helping brands and retailers leverage the power of product label data to better communicate with consumers.
Why is this important?  In today's world, information is power.  With something as vital as the ingredients in food, could there be anything more exciting for a consumer?  FoodEssentials doesn't think so, and neither do those who are utilizing its technology. Currently, their food data platform is being used by the United States Food and Drug Administration, grocery retailers, brands, and numerous technology application companies.
In other words, their innovative, proprietary technology is impacting real change in how people choose their food.  For example, just imagine what this information could mean to someone who is sensitive to gluten.  FoodEssentials provides the data that would allow companies to create applications to easily determine whether gluten is in a food product.
As they state on their website, "Our mission has always been to make vast amounts of food label data accessible and easily analyzable."  That's exactly what they're doing, but what will the future look like for this startup?  Xavier commented on the matter stating, "The addition of Cultivation Capital to our list of strategic partners is helping accelerate our network of connections in the industry, and the support we have received here in St. Louis has been like nothing we have received elsewhere.  We've been able to focus on our strengths, knowing we have a whole community in St. Louis at our reach when needed."
Today, FoodEssentials is already generating four million calls a month after launching LabelAPI last September, their public version of food data.  This year, they'll be concentrating on expanding their offering to grocery retailers and brands.  Their goal is to help leverage product analytics and big data techniques to further business intelligence within the industry.
For this food data startup, we can't wait to see how this announcement will impact their future growth.  What do you think?  Could this be the next big startup to rival LockerDome's "hottest startup in St. Louis" designation?  Give us your take in the comments!