Oh the days of Digg. Remember the days of social connections you barely know interrupting your work with emoticon-filled IM pleas asking you to Digg some obscure blogpost?

Yeah, it was really fucking annoying.
But maybe it didn't have to be.
At least thats what Favo.rs, a new social networking site  claims:
"Favo.rs is where founders and professionals broadcast and fulfill each other's requests for help. Requests can be as simple as a retweet or as important as an introduction, and all requests are tracked to reveal who you help and who helps you the most."
Favo.rs turns self-promotig solicitations into networking opportunities . Favo.rs was built specifically so people CAN ask other users to help them out- whether it be a piece of advice or tweeting out a link.
Favo.rs has a simple interface that gives user four actions choices: Promotion, feedback, advice and introduction.

The four choices are pretty self-explanatory and they have included  a "general" option that serves as a catch-all in the off chance something you need isn't listed.
The gamification aspect of the network is smartly done making it kind of of fun helping other users out.
Once you've completed an action for another user, Favo.rs immediately pats you on the back  in the form of badges and new titles like 'Advocate' and 'Benefactor.'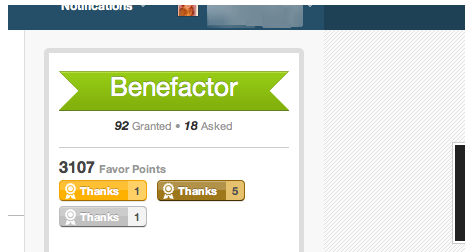 Originally I thought I was going to hate Favo.rs but the transparency of the platform won me over.  Since the community is built specifically for reciprocal favors, I wasn't annoyed when a member utilized the platform as it was meant to be used and asked for a helping hand.
Favo.rs is still in Beta so access can only be gained through an invite from an existing user. If you would like an invite, hit me up in the comments after the video.