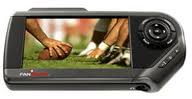 With the boom of high definition television, cable channels such as NFL Red Zone and high priced NFL Tickets in a time of recession, watching football at home has become as desirable choice for football fans. The ability to follow all the features you love like multi angled replays, stats and fantasy teams make staying home more attractive and inexpensive for the penny pincher. Because NFL teams are feeling the affects they are teaming up with FanVision to make the in stadium experience just as enticing as the home experience.
FanVision, which dons a 4.3-inch screen that's about the size of a Nintendo DS, is a handheld device that works only while within the confines of the stadium and parking lot. It enables fans to view instant replays from multiple angles, real-time stats from around the league, other NFL games, NFL Red Zone, live fantasy football updates, on-demand video from your home team, highlight reels of the game and the actual network telecast of the game you're in attendance of. FanVision will be available within the stadiums of the signed-on teams for $199 without any activation or recurring fees at this time. The manufacturer's suggested retail price is $259 for the gadget. Kangaroo TV, the original technology name, now called FanVision was first debuted at Nascar events. The device will be owned by the fan with a signal provided via Wi-Fi or 3G. For some higher-priced ticket holders, they'll be given away for free depending on the stadium.
As the system grows, fans will be able to do a lot of customizations to the content they want to receive. FanVision is making sure that all of the things that people are able to access at home are available at games. The NFL's need to boost ticket sales and compete with high-quality HDTV feeds and interactive tools available at home prompted its use of FanVision. Thus far it's only available in 12 stadiums: for Cardinals, Bills, Dolphins, Broncos, Browns, Bears, Vikings, Jets, Vikings, Eagles, and Seahawks fans and also at the University of Michigan for its college football season.
Check out FanVision's website for more information on the device.