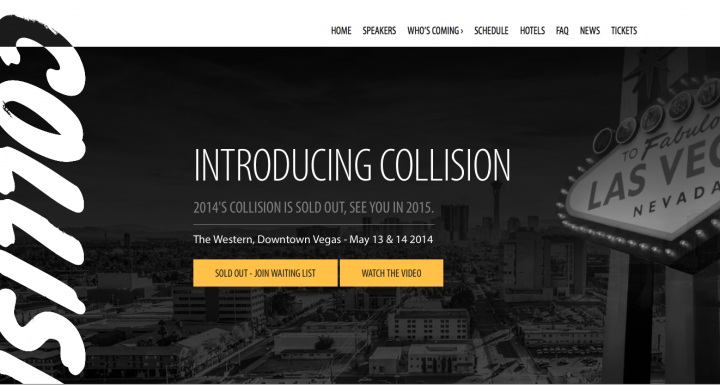 Las Vegas continues to build a case for becoming the center of tech startup life. Sin City's Downtown Project is revitalizing Vegas with a variety of projects, including the $50-million VegasTechFund.
The city's efforts have attracted the organizers of The Summit, Dublin's popular tech conference, who are bringing this explosive event to the U.S. for the first Collision conference on May 13 and 14.
Previously known as the Dublin Web Summit, The Summit started in 2010 and has grown at an unprecedented rate. In 2013, the conference attracted over 10,000 tech companies, speakers, and investors from nearly 100 countries around the world to exhibit, network, and collaborate.
Past attendees have included Elon Musk, Jack Dorsey, Bono, Tony Hawk, and Reed Hastings. In addition to informative speeches, The Summit is known for its fun side events, including the Night Summit, music from around the world, and a showcase of gourmet Irish food.
So far, we haven't heard much about Collision's possible side events, but with its speaking roster packed with so much star power, I'm positive Vegas will not disappoint.
Scheduled Collision Conference Speakers
Collision speakers include recognized names like Aaron Patzer from Mint.com, Ryan Holmes from HootSuite, Tony Hsieh of Zappos, and MG Siegler of TechCrunch. They'll be covering some intriguing topics in tech, including:
1.     Physical tech: The Internet of Things is beginning to consume early tech adopters, so wearables and hardware in general will be a hot topic at Collision. Look out for Walter De Brouwer, founder of Scanadu, who's bringing health monitoring into the home with the company's revolutionary tricorder device.
2.     Data in marketing: As analytics get smarter, we'll keep working to tackle the attribution problem. Presenters like Ryan Holmes will talk about how tech companies can use online tools to gather data and make smarter marketing decisions.
3.     Digital transactions: From mobile payments and digital wallets to Bitcoin and other cryptocurrencies, digital transactions is an area primed for disruption. The future of our money is bound to be discussed throughout the conference.
4.     Struggles in entrepreneurship: Mark Suster, who famously lifted the curtain on "entrepreneurshit," will be among those speaking about surviving the daily struggles of startups, seeking funding, scaling, exiting, and more.
5.     Tech pushing the envelope: Collision's bold speakers will also explore some controversial topics in tech. Justin Hartfield, the first VC of the pot industry, will discuss the implications of tech on the marijuana industry.
While the inaugural U.S. summit will be smaller than its European counterpart, the energy at this sold-out event is sure to be high. You can check out the full schedule here.
Get Ready to See the Next Big Thing
Tech's biggest companies — including Facebook, Google, Dropbox, and Amazon — will have exhibits at Collision, but attendees should also get excited about tech's coolest up-and-comers.
Over 150 startups will be showing off their work for the media, investors, and partners in hopes of becoming the "next big thing." Expect to see tech companies large and small collaborating to bring innovative ideas to market.
Although Collision will mostly follow the setup of The Summit, the Las Vegas version includes one distinct difference: Spark.
Spark is a new element of the conference, a pitch contest of 30 startups vying for $10,000 in a competition to crown 2014's best startup. PenPath, a St. Louis startup that provides analytics for writers on the web, is a finalist in the competition.
One of the most exciting aspects of Collision is its potential to provide an enormous boost to the Las Vegas startup community (similar to Austin's tech boom from South by Southwest). Seeing pockets of tech entrepreneurship spreading beyond Silicon Valley and New York gives me enthusiasm and hope that the next generation of entrepreneurs will be inspired to pursue their breakthrough ideas.
Will you be attending Collision? Which companies and speakers are you most excited to see?