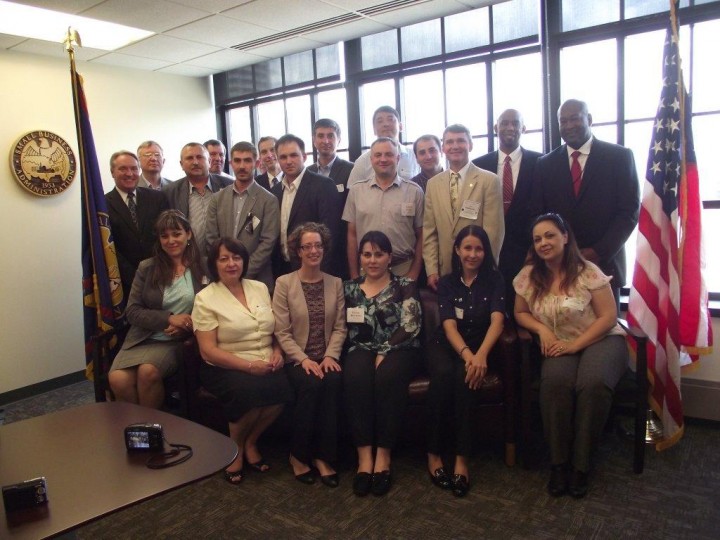 At the end of June, St. Louis was proud to host a delegation of international leaders to explore the St. Louis technology ecosystem—particularly how the entrepreneurial community worked together. Sixteen delegates travelled from 9 Eurasian countries with the aid of two Russian interpreters and International Trade Specialist, Becky Long. The U.S. Department of Commerce's Special American Business Internship Training (SABIT) program hosted the delegates, who wanted a deep dive into entrepreneurship and Intellectual Property Rights, as it pertains to Technology Commercialization.
After starting off in Washington D.C. for the first week of the program, the group then came to St. Louis for six days of meetings and presentations from some of the region's top programs for supporting innovators, such as the St. Louis Economic Development Partnership, CORTEX and T-REX. On Tuesday, June 24, the delegation met with myself and Dr. Dedric Carter, the new Associate Vice Chancellor for Innovation and Entrepreneurship at Washington University, for a presentation and questions about St. Louis' bourgeoning startup scene. It is an important bellwether that delegates are seeking the United States' best practices in regard to intellectual property rights (IPR), technology transfer, technology commercialization and entrepreneurial development in St. Louis. We were able to speak extensively about St. Louis' growing prominence in the startup field, strengthening collaboration through organizations such as the Financial Forum, Accelerate STL, local incubators and the co-working scene. We also discussed the engineering and entrepreneurial talent based in the area.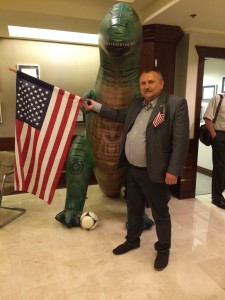 One of the delegates, Ivan Brink, President of InTech-Don in Novocherkassk, Russia, said, "In St. Louis, I could sense a spirit of collaboration and the momentum for improving regional economic development. The mission of my organization, InTech-Don, is similar to that of the St. Louis Regional Chamber, so the meeting with the Chamber was particularly valuable for me."
The St. Louis technology environment, particularly in regard to startups, has rapidly evolved in the past few years and can serve as a model for those looking to improve the ecosystem in their region. Certainly, the necessary collaboration, relationship-building, financing, education and entrepreneurial spirit to succeed must be nurtured and may take an extensive amount of time to mature. The delegates may find that some methods which have achieved success in the United States do not easily translate in their countries. Various forms of government and diverse business cultures might differ greatly from our own culture. However, there is much to gain through the sharing of ideas.
"Our delegation's meeting with T-REX left a strong impression on me. I think it's essential that T-REX is a non-profit organization, which is not interested in profiting from rent paid by tenants but instead offers very affordable fees for utilizing their space. As a result, T-REX and the organizations housed there are able to support entrepreneurs from the very beginning stages when they may just have an idea or concept … I also believe that it is key that in St. Louis, investors and the business community seem to realize that I may take some time before a startup can generate a profit," Brink said.
Collaboration is at the heart of development. Economic development organizations on their own cannot move the needle. It has to be collaborative. Focus should be on what entrepreneurs want, and not on what we may think they want. Some resources which our region utilizes can be directly used or adapted abroad such as LaunchCode, massive open online courses (MOOC) like Coursera, and Up Global which organize programs like Startup Weekend. These programs serve to further entrepreneurial education and tech support.
Dedric Carter Ph.D., who came to Washington University from his position as a senior advisor to the director for strategic initiatives at the National Science Foundation (NSF), spoke about how universities play a vital role in generating research but also stressed the need to focus on training entrepreneurs. Programs like the NSF's Innovation Corps (I-Corps) serves to bring together scientists, academics and entrepreneurs, and enhances NSF-funded research. On their first day of meetings in Washington D.C., the delegates were able to visit the NSF and hear about this pioneering program.
Closer to home, Dr. Carter said St. Louis has the second mover advantage of learning from the failures and successes of the East and West coast. By building new and different models here, St. Louis can position themselves as a national entrepreneurial player. The goal is not to simply output more work, but to work in a smarter way that breeds creativity. A community needs to supply substantial support for entrepreneurs to thrive. This includes government, university, venture capital and corporate assistance as well as collaboration with entrepreneurs.
Delegate Taras Slobodyanyuk, partner at Slobodyanyuk & Partners and Trademark Attorneys in Kyiv, Ukraine said, "I was impressed by the U.S. federal government's role in supporting innovation and small businesses through programs such as the Small Business Innovation Research (SBIR) Program and the Small Business Technology Transfer (STTR) Program. In addition, the U.S. Small Business Administration's HUBZone program to revitalize historically underutilized business zones was quite interesting."
Those are a few programs that aid entrepreneurs in America. Luckily, our region thrives with educational support. St. Louis can boast of two nationally ranked university entrepreneurial programs. According to a list developed by the Princeton Review and Entrepreneur Magazine, Washington University's undergraduate program ranks at number eight and St. Louis University's at number twenty-three. Additionally, Washington University's graduate entrepreneurial program ranks at number twelve.
Another delegate, Yevgeniy Nikitin, First Vice-Rector and Vice-Rector for Innovation Development at Innovative University of Eurasia in Pavlodar, Kazakhstan, said, "The involvement of universities is an integral part of the innovation ecosystem. Universities in St. Louis are places where inventors can innovate and utilize the services of university technology commercialization offices in order to commercialize their inventions effectively. I was also impressed by the involvement of younger angel investors in providing financial support to entrepreneurs because they have a passion for seeing their region prosper."
Washington University offers students the chance to participate in summer internships working for "startup" or "growth" companies. These two categories are defined by the amount of capital raised and number of workers employed, but each offers students the opportunity to experience the challenges entrepreneurs face locally or in San Francisco. By combining classroom lessons with business capability, students learn the necessity of innovative thinking and adaptive behavior. The Skandalaris Center Internship Program also allows students to familiarize themselves with the skills needed to work cohesively on a team. Some interns have even gone on to win Washington University's Olin Cup competition—which began in 1988, but started providing seed funding to winning commercial venture teams in 2003.
Entrepreneurial encouragement extends beyond our local classrooms as well. In October, Washington University professor, Holden Thorp, will co-instruct a six-week Coursera program titled "What's Your Big Idea?" with the University of North Carolina's Buck Goldstein. The free online course is open to the general public and will guide participants on taking an entrepreneurial idea and developing it into reality. Each week includes modules of video instruction and homework assignments that focus on thinking, listening, planning, clarifying, supporting and iterating. The program also includes discussion forums where students can receive feedback and support.
These resources are vital to cultivating and translating America's entrepreneurial spirit into new businesses and economic growth. Knowing how to move forward is just as important as possessing a disruptive idea. Born from the minds of Washington University graduates, the Biotechnology and Life Science Advising (BALSA) Group provides consulting services to the biotech industry and brings together Washington University researchers, students and businesses. St. Louis Ph.D., law, and MBA students, as well as Postdoctoral Fellows, can participate in BALSA consulting groups in order to strengthen knowledge of non-academic careers in life sciences. All of these local and global resources generate and advance the role of entrepreneurs in the economy and society.
"A key reason that St. Louis has succeeded in developing an innovation ecosystem is the region's collaborative partnership with universities' research departments, universities' technology transfer offices, investors for access to finance, larger corporations as potential buyers, and innovators. There seems to be a strong group of philanthropists that is enthusiastic about economic development in the region and has the full support of local government and non-profit organizations," said Slobodyanyuk of Ukraine. "I was impressed that non-profit organizations seem to cover every possible stage that might be challenging for innovators. I would like to try to replicate parts of this model in Ukraine in order to make it easier for startup entrepreneurs to innovate."
With the rapid advance of globalization, a community can no longer satisfy itself with a narrow, internal focus. Recently, the SABIT program has been able to facilitate relationships that have led to more international collaboration. For example, the executive director of an American university's technology transfer office has travelled to Azerbaijan for a national conference to lead a session on tech transfer. In Moldova, a representative from the U.S. Patent and Trademark Office led a training program for the State Agency for Intellectual Property of Moldova. By sharing and fostering ideas across the globe, St. Louis can more fully participate and reinforce the entrepreneurial spirit.
"St. Louis was the first place I heard the term 'innovation ecosystem.' I believe the St. Louis region has achieved a high level of success using this fundamentally new approach of developing an innovation ecosystem that involves many partner organizations … I also learned first-hand how to organize a public-private partnership in the correct way while visiting the St. Louis region," Nikitin said.
Watch out. St. Louis is not just for baseball and beer anymore.