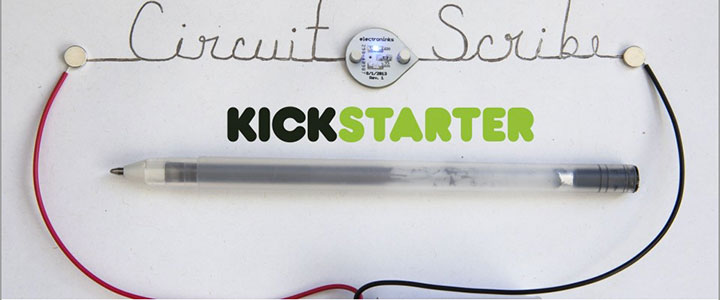 Founded earlier this year by S. Brett Walker and Professor Jennifer Lewis, Electroninks Inc. was born out of Lewis' research lab in the University of Illinois' Research Park.
Lewis, a former University of Illinois materials science professor and Walker, a recent PhD graduate in materials science, originally created the reactive silver ink to be used in low-cost, flexible printed electronics in a business to business focused venture.
A new application of the ink came about due to demand for a consumer product that allowed "makers" to build their own circuits.
Demand for this innovation has pushed Electroninks into creating a Kickstarter Campaign to scale up production and get Circuit Scribe, their newest product, out to consumers.
While their original goal was to hit $85,000, they have surpassed it with over $640,000 pledged and still over a day to go on their campaign.
I'd call that a huge win in my book.
When I asked Walker his thoughts on the popularity of Circuit Scribe, he was thrilled to say the least.
"It completely exceeded our expectations and it was great to get that affirmation."
Backer packages range from $5 to $5,000.  $20 will buy you a Circuit Scribe pen. $5,000 will buy you your own in-person classroom demo with plenty of pens and components.
Racking up a heap of press coverage, the team has now been mentioned in TechCrunch, CNET, Engadget and Gizmodo – to name a few.
Circuit Scribe, a rollerball pen that fluidly writes with reactive silver ink, makes creating circuits literally as easy as drawing.
This technology enables consumers – Makers, STEM Educators, Artists, Kids, and Life Hackers – by putting electronics into their hands with a pen and a simple piece of paper.
"We're very excited to be offering a tool to make building electronics, easier and more accessible for creators of all ages," stated Walker.
Circuit Scribe can be used in conjunction with Arduino, Makey Makey, and many other electronic platforms.
In creating Circuit Scribe, the team's hope was to give back to students, future students, and educators in STEM (Science, Technology, Engineering and Math) fields. The pen allows classes to quickly, easily and cheaply construct circuits without the use of typical breadboards or expensive components.
This goal encouraged the team to hire Analisa Russo and Michael Bell who continue to develop tools for the education and maker communities for low-cost, high-quality electronics.
With all of the press and the confidence boost, Electroninks has tossed around the idea of doing a second Kickstarter Campaign for their silver ink jet printer- some time down the road.
"Kickstarter is all about the prep work. Proof of concept is only a fraction of getting it going."
Walker urges future campaign makers to invest in a solid video. Theirs, done by pitchslap.tv, has more than proven itself. They have also helped manage the campaign and are currently shooting new footage for the team.
This couldn't have been possible, according to Walker, without the support of the Technology Entrepreneur Center, "all the people at Illinois" and Electronink's work with University of Illinois' NSF I-Corps Program.