The education system has always been "behind the 8-ball" when it comes to applying the use of emerging technology in the classroom. Unless you are studying science or engineering, chances are you will not be utilizing the tools of the Internet to learn. Fortunately two startups hope to change the way we view technology and learning, not only in the classroom, but also in the comfort of our homes.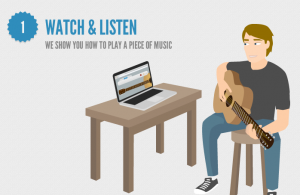 New York-based startup Instinct is a "virtual music teacher" created by Blake Jennelle. Jennelle is a young entrepreneur and developer who teamed up with his complement developer, Brian Stoner, in hopes of reinventing the way we learn music. Instinct started with the concept of a unique three-step learning process. Users first watch and listen as Instinct shows them how to play a piece of music through a series of interactive videos. The second step involves the user physically playing the music by following along with the instructions on the screen.
As the user produces music, the Instinct software picks up the melody (or lack of melody) through the computer's microphone. Unlike YouTube videos or how-to books, Instinct provides the user with instant feedback on their music. After an initial beta test several users tweeted about their experience with Instinct: @jwegener tweeted "Just learned to play guitar in under 2 minutes…mind blown.Amazing product under works…"
Instinct is not the only startup focused on forming a market around interactive learning. Codecademy — led by Zach Sims and Ryan Bubinski — is an interactive learning platform that teaches users how to code.
"Codecademy was created out of the frustrations Zach and Ryan felt with learning how to program. Tired with less effective text and video resources, Ryan and Zach teamed up to create Codecademy, a better, more interactive way to learn programming by actually coding. This is just the beginning. Join us as we make it easy for everyone to love and learn how to code."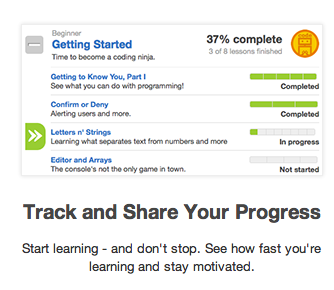 Infamous tech blogger Michael Arrington called Codecademy "the future of learning" when he announced that CrunchFund would be included in the 2.5 million dollar funding round Codecademy closed a few weeks ago.
Startups like Codecademy and Instinct are rapidly shaping the next generation of interactive learning platforms. "We're witnessing the beginning of the interactive era in education," explained Jennelle when asked about the growing trend of education startups in the tech industry. "Instinct is doing it for music, Codecademy is doing it for code and before long, there will be a long list of companies doing it for other skills. It's really important and we're excited to be a part of it."
As a student myself, I understand the stress of student loans and the cost of undergraduate tuition. The newly emerging market of interactive learning platforms could prove to be beneficial for those who may not have the funds to afford the rising cost of higher education. These platforms allow anyone in the world to learn at their convenience and focus on learning things they are interested in at their own pace.