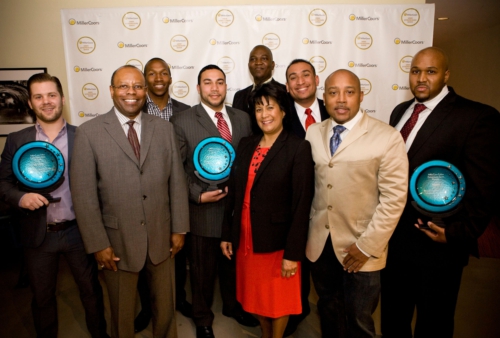 Dining Dialog, a startup based in Bolingbrook, IL, recently won the 2012 MillerCoors Urban Entrepreneur Series grant of $50,000. The grant has been awarded each year since 1999 "to help urban entrepreneurs fund their start-up businesses or companies that have been in business for less than five years."
Dining Dialog is an innovative company that provides an all-service advertising package for restaurants. They help businesses manage their social media marketing on websites like Facebook, Twitter, and Foursquare, including online monitoring and management across review networks like Yelp and Urbanspoon. The company drafts and sends mobile text and email marketing messages to a restaurant's client base. Dining Dialog even offers design services, including both website and restaurant menu redesigns available to clients. The start-up offers a variety of these services in silver, gold, and platinum packages.
Ola Ayeni, the startup's Chief Idea Officer, said that winning the award was not at all a surprise. "I have worked very hard and put forward my best. I was confident we would win and prepared for it."
The startup already has some good ideas of what they will do with the MillerCoors grant.
We would spend part of the money on our new product development, launch a thought leadership blog and hire some quality part time to help us scale. We are therefore putting a call out their for experience web app designers, developers and programers, freelance marketers with deep experience of online marketing, social media and blogging. We also welcome sales people.
Ayeni has big plans for the future of the company. Apart from securing more funding to scale the company and grow its current restaurant base, the startup is looking to develop and launch a new web app for Dining Dialog.
When asked about the most common mistakes he sees restaurants making in marketing, Ayeni pointed out that the biggest problem is a lack of experience.
They don't know how to market and promote their restaurants. You see, restaurant owners are not in the business of internet marketing and do not want to be. All they want to do is to cook and create an experience. We expect restauranteurs to do things they do not know how or have the time for. We are already setting them for failure.
The grant is awarded to four different companies each year, three of which receive $25,000, with only one securing the $50,000 that Dining Dialog won this year. The other three winners of the MillerCoors grant were WeDidIt, a New York-based crowd-funding platform, Black and Denim Apparel, a clothing business emphasizing the principles of American hard work, and Neimaj, which produces eco-friendly protective footwear.