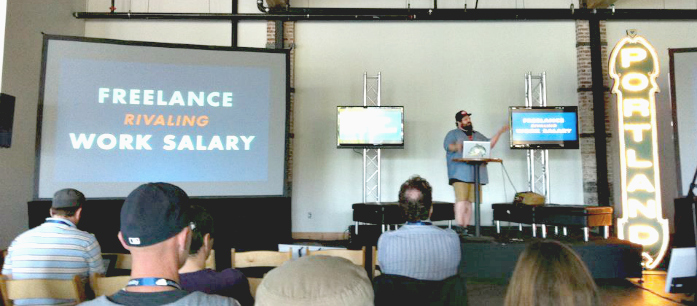 Acclaimed designer Aaron Draplin is, "not in a band," he proclaimed on stage yesterday at the Portland Digital eXperience Conference, but he's going on tour anyway. He reminded the audience at the end of his talk that he even printed his own concert t-shirts available for sale after the "show". He's probably the only designer who can get away with selling posters, stickers and t-shirts featuring himself at a tech conference.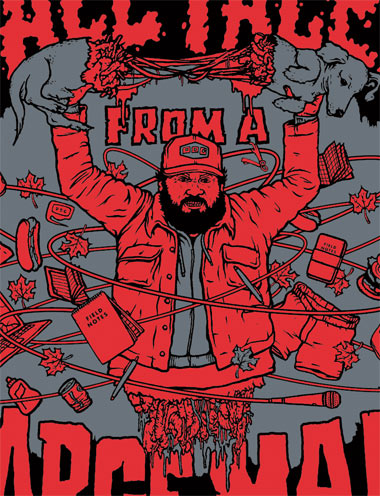 Image courtesy of Draplin Design Co.
Draplin is a rockstar in his own right though, thanks to his design talents that have brought him from his modest upbringing in his hometown of Detroit to the designing logos for the U.S. government and Hollywood legend John Hughes. When Draplin is not in Portland working at his firm Draplin Design Co., he is an in demand speaker. Yesterday his appearance at the Portland Digital eXperience Conference marked the first date of The DDC 2012 Fall Tour that will bring him to cities like New York, Memphis, Brooklyn, Chicago, and Stockholm. Yet Drapln's message is decidedly about staying small, and sticking to the American values of integrity and adventure as it applies to design.
The first half of Draplin's talk was about his roots and his obsessive collection of early 20th century design relics from old packaging and signs, which frames the development of his America aesthetic. Draplin's early life in Michigan coupled with his first taste of snowboard culture of the west during this early twenties informed his formal design education in Minneapolis. Since then, his work has become known for its clarity of purpose, and its modern twist on the early 20th century logo design that he collects.
By framing where he came from, Draplin can articulate his aesthetic, (peppered with cursing and a few self deprecating jokes). He firmly believes that most of the design produced right now is garbage, despite our access to every color and font imaginable. Draplin also noted several times during his talk that many of the opportunities in his career have come to him because he chooses his projects based on the principles of helping cool people like his friend Todd, the owner of the Cobra Dogs food truck franchise that Draplin worked with to redesign the food cart logo for free. He cares more making a difference in the world rather than the money, but the money follows his work anyway. More than a few times he poked fun at agency designers, which is a jab at the Wieden + Kennedy crowd (and they love Draplin even more for it).
Draplin wrapped up his talk with what he calls "tall tales". His two tall tales included allegories about working with the U.S. government to create the Recovery Act logo, and how he formed a friendship with a farmer who called him asking for logo work who eventually reveled himself to be Hollywood legend John Hughes.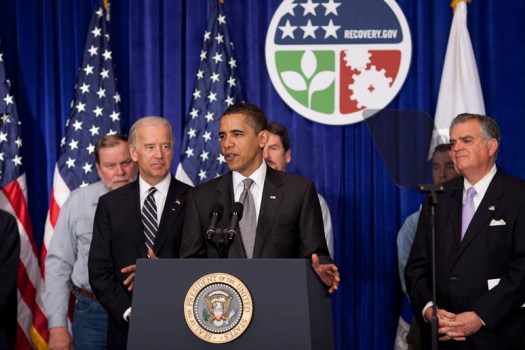 Draplin's work is admired for its quality and point of view, but as a designer he should also be praised for the values and process that go into his work. If you ever get a chance to see Draplin speak live, please go. Anyone who works in the creative field, designer or not, has a lot to learn from his experience.