Curalate, the first marketing platform for the visual web, is announcing the success of the company's Promote tool, which recently helped Carnival Cruise Lines quadruple followers during an 11-day promotion on Pinterest. Curalate is proving that analytics and engagement tools for the visual web are becoming more important than keyword-based marketing tools thanks the company's promising work with global brand and agency leaders.
Curalate offers four tools for brands: Measure, Engage, Publish, and Promote.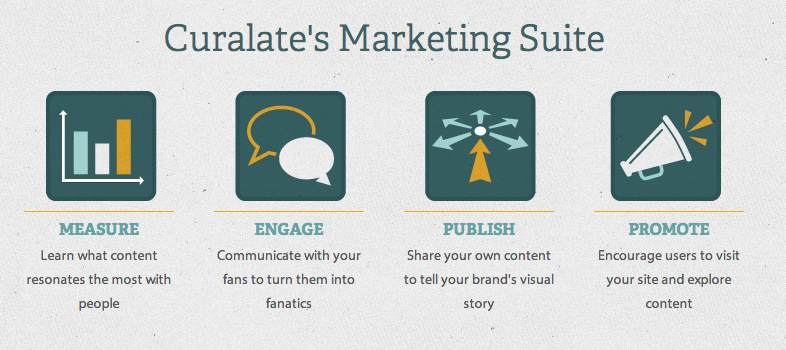 Curalate's Promote tool was developed in collaboration with brands like Urban Outfitters, Michael Kors, Kraft Foods, and Carnival Cruise Lines to test and improve the company's promotions capabilities during private beta. Over 250,000 people have entered contests on Pinterest that Curalate powered on behalf of their clients.
"Right now, contests on sites like Pinterest require users to do too many steps. People who want to enter the contest have to create a board, pin images to the board, then alert the brand that they created the board. Then, the brand has to go through all of the emails and pins," says Apu Gupta, CEO of Curalate in an interview. It all adds up to a nightmare situation that wastes time for both entrants and brand sweepstakes managers. "Curalate makes contests on the web should be frictionless," Gupta continues.
In a recent Pinterest promotion, Carnival Cruise Lines leveraged Promote to quadruple their number of followers during an 11-day promotion. The largest cruise line in the world invited participants to tell a visual story using Pinterest boards about one of four dream destinations: the Caribbean, Europe, Alaska, or Hawaii.
Curalate's visual measurement tools automated contest entry management, enabling Carnival to engage participants with follow-up email. More than 18,000 consumers who entered the contest opted-in to receive Carnival's future promotional messages. During the 11-day entry period, Curalate tracked more than three million unique impressions for Carnival's promotional images.
Headquartered in Philadelphia, Curalate raised a $750k seed round from NEA, First Round, and MentorTech in May of this year. The company was founded by Apu Gupta and CTO Nick Shiftan. Curalate evolved from two short-lived startups that had Gupta at the helm within the past few years: Storably, a marketplace for storage space, and DrinkedIn, a professional networking matchmaking site.
The third time is definitely the charm for Gupta.
"When we started Curalate, we recognized that the web is increasingly becoming a visual space. 70% of social media interaction is images," noted Gupta. "We want to help brands measure their influence on the visual web. Once they measure, they want to grow their engagement and influence on social curation sites. That is the real opportunity," he continued.