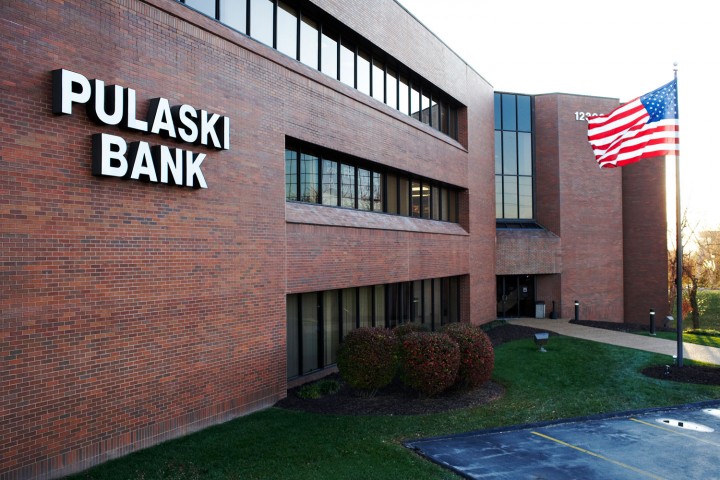 A community bank in downtown St. Louis is taking on a mighty big project: helping tech startups become the city's next generation of major employers.
The community bank is Pulaski Bank, a mid-sized, publicly traded firm known best for its commitment to the city where it was founded by Polish-American immigrants in 1922. Pulaski has quietly built itself into a $1.4 billion bank with 13 banking locations in the St. Louis region as well as mortgage production offices across the Midwest. It is taking on this tech startup project as part of a mission to help the city reimagine itself.
The nurturing of tech startups in St. Louis has been picking up steam since 2010 when several grants were established for new technology-based companies in the city. T-REX, Arch Grants, iTEN and Cultivation Capital have been providing money and consulting services to firms that are either based in St. Louis or agree to move here while they learn. The newest incubator is SixThirty, which specializes in financial services startups in a town that is home to some of the biggest players in that space including Edward Jones, Scottrade, Stifel Financial and Wells Fargo Advisors.
Pulaski has committed more than just money. In addition to a loan to T-REX for furnishings in a new downtown building, it is offering the startup companies a package of six months of free banking services and consulting. They have also contracted with one of the startup firms, Gremln, to help manage their social media outreach.
Pulaski's financing for the T-REX incubator has gotten recognition outside St. Louis. It is one of the top vote getters in an online voting for the best project that is "strengthening communities together" sponsored by the Federal Home Loan Bank of Des Moines. If Pulaski/T-REX wins the online vote, the tech incubator will get a $15,000 stipend.
As improbable as some may think a community bank playing such a major role in revitalizing a city, Pulaski believes it's perfectly positioned to play a key role in the tech startup story in St. Louis.
"We saw what was happening and we knew we needed to get in the middle of it," said Paul Grosse, Pulaski's regional president. "We see it as not only a good way to expand our services as a community bank, but to be a good neighbor. Basically, if it's good for St. Louis, it's good for us."