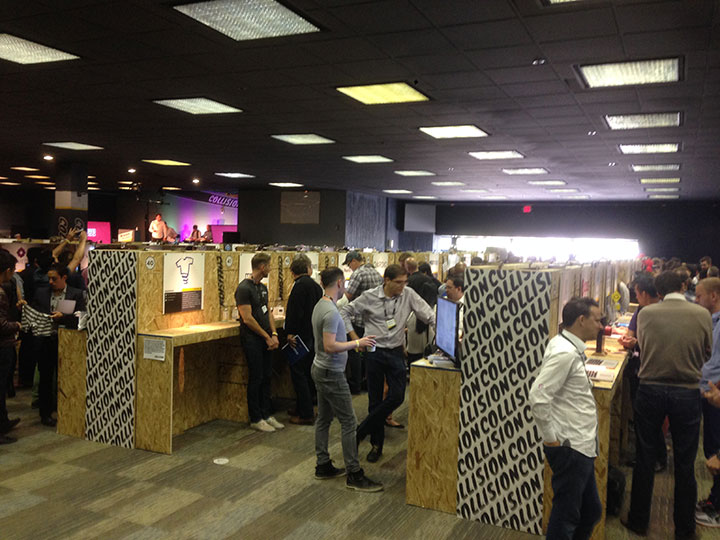 You need just one great idea to take off. In a sea of 150 great ideas — like at last week's Collision Conference in Las Vegas where 150 startups showcased their products — it takes a lot more than a great idea to stand out.
The exhibition event, called Collide, brought together some of the brightest minds from around the world. Organized by the leadership team that annually puts on The Summit in Dublin, Ireland, Collision brought a swell of excitement and innovation to East Fremont in downtown Las Vegas. Entrepreneurs, investors and media outlets gathered to meet the teams behind some of the most promising young companies.
A few ventures stood out in this sea of competitors. Here are the 12 companies to watch out for from the first #CollisionConf.
@theairhelper
Winner of the Spark pitch competition, AirHelp is an amazing tool that "helps passengers get compensation when their flight is delayed, cancelled or overbooked." They know your legal rights, and they've made it extremely easy for consumers to find the money hidden in their inboxes for flights taken within the last three years (up to $800 per trip).
@SolePowerTech
This shoe insole generates power with every step you take, storing the energy to charge your dead mobile devices via USB. This company was a Spark competition finalist, has won a host of awards including the Popular Science 2014 Invention Award, and is set to do big things in the near future.
@TINYpulse
In an age when data is king, this platform helps companies put metrics on a rather subjective area: company culture. By automating and tracking anonymous feedback from employees, leaders can keep a pulse on the happiness of their growing businesses. Companies like HubSpot and AAA have already discovered the value of this tool; expect to see this company grow quickly.
@Departing
Nobody wants to leave behind a big bill for their family to deal with once they've passed on. Departing.com makes this sensitive process easy by providing free funeral planning advice, helping users find a funeral home, and developing a host of educational resources to assist families in unfortunate circumstances.
@Playtabase
One of the most interesting hardware companies at the showcase, this startup has created Reemo, a remote to the Internet of Things. Through wearing a wristband and using gestures, the company positions its tech as the first mouse for the physical world. The team has been invited to multiple industry shows to demo its wearable tech.
@PrivacySuisse
With last year's NSA fallout, data security has become an extremely important topic. This company is tackling the problem of private and secure communication head-on. Made up of an experienced team with over 20 years of experience in the field, the upcoming PS suite lets users chat, host email, store data, and talk with 100 percent privacy. Look for its full launch this summer.
@Odimax
While most of the tech world is pushing sales and marketing automation, Odimax has gone against the grain. This social selling platform utilizes real social media experts to nurture online leads. Customers only pay once they're handed qualified leads.
@getwiser
To develop talent and stay atop an industry, creating a culture of continuous education is key. Wiser is the tool to do just that: The platform is a social newsreader that suggests content to your employees that is both relevant and actionable so they can stay on the bleeding edge.
@joineureka
Eureka is a suggestion engine that brings relevant new products, apps, and news to your phone. If you think StumbleUpon is fun for content, try this app for everything else.
@NextChapterBK
For bankruptcy attorneys, the future is here. NextChapter is built to help lawyers in this field manage deadlines and paperwork in an easy, efficient way. The service runs securely in the cloud, and founder Janine Holsinger has been working on the idea since 2008.
@Flicksea
Currently in beta, Flicksea takes movie reviews to the next level. While data shows that we listen to movie critics, this app goes one step further and begs the question: "Do we agree most with our peers about movies?" Think of Flicksea as a more social, data-driven Rotten Tomatoes.
@PenPath
St. Louis's own PenPath also placed in the top 30 in the Spark competition. An analytics tool for content creators, this elegant portfolio allows anyone who has been published online to get instant access to real-time analytic data by simply pasting an article's URL into the PenPath tool. Keep an eye out for this potential online publishing game changer.
For those who attended, which companies in Vegas impressed you?