Coding education platform Treehouse is the first in the race to revolutionize web development education to get a traditional book deal. The series will be released by Wiley Publishing, starting with HTML5 Foundations by Matt West soon to be followed by CSS3 and iOS6 books.
The books are authored by Treehouse experts and are packed with innovative design ideas and practical skill-building information. The books are perfect for web developers, web designers, or career-changers who are interested in supplementing the practical application of new skills with the foundations of web development.
While many coding education platforms like Codecademy do a great job of getting users to start coding right away in the browser to onboard customers faster, there is a major gap between making javascript work in your browser and knowing the foundations of why and how it works. With the launch of the Treehouse book series, this gap is closed. Not only can users sign up for video and project-based learning on the Treehouse website, the books now provide the knowledge backbone of the Treehouse platform.
According to Treehouse CEO Ryan Carson, "Students need different learning mediums. Some do very well with video and there are others that excel with the written format. That's where our book series comes in. We're starting off our book series with books on how to build websites first. Eventually we'll have a book for each of our major curriculum areas."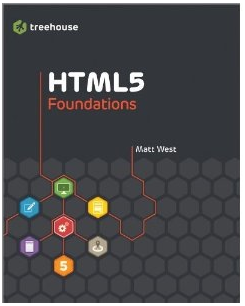 The first book in the series, HTML5 Foundations, explains HTML5 basics, including how to format text, add scripts to pages, and use HTML5 for audio and video. The book also covers hypermedia, CSS and JavaScript, embedding video, geolocation, and much more.
According to HTML5 Foundations author Matt West, "The goal of the Treehouse book series is to teach readers the skills they will need to actually go out and get a job. Too many of the books on the market today teach students web design using examples that are not relevant to the real world. We wanted to change that." In addition to being the author of HTML5 Foundations, he is also the founder of Developer City, a design and development studio located in the UK.
HTML5 Foundations is only available via preorder right now, but the team at Treehouse has generously decided to offer a digital copy of HTML5 Foundations for free to the first 10 people who comment on this post. Leave a comment and tell us about what you think about the future of education platforms, and we'll connect you with your exclusive digital copy of HTML5 Foundations.