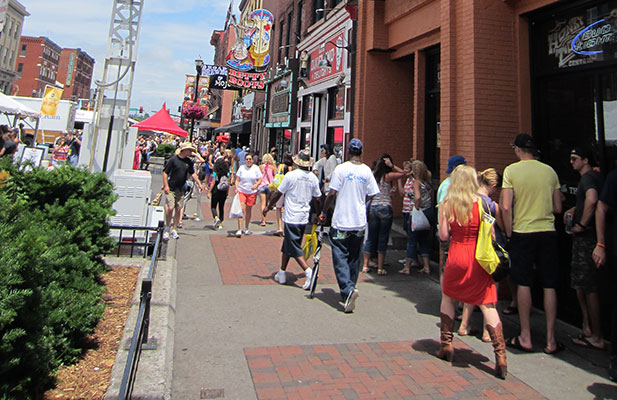 The 2013 CMA Music Festival wrapped up its 42nd year on Sunday, June 9 here in Nashville, Tennessee. Each year, thousands of country music fans descend upon Nashville for the four-day fan fair to see live shows on multiple stages by emerging artists and superstars like Taylor Swift and Blake Shelton.
As a marketer, the most interesting aspect of CMA Music Fest to me is the way sponsors engage with the thousands of fans walking around downtown Nashville. The most well orchestrated sponsor activities are the ones that reinforce the brand, tie into the spirit of the event and find ways to engage with fans after they leave the booth. CMA Fest is all about having fun and hearing great music, and there were plenty of sponsors offering a good time for fans who took the time to stop by the various booths in Fan Alley. Fan Alley is a free outdoor festival area filled with sponsor booths hosting games and other activities for fans to participate in.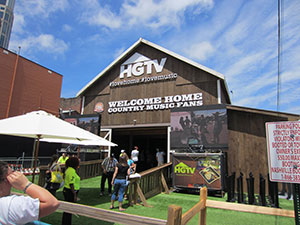 My first stop in Fan Alley was the HGTV Lodge. At 2,400 square feet, The Lodge was so large and elaborately constructed, it was hard to miss. Upon a closer look, I discovered that it offered a comfortable space for fans to pause and sit in the shade, charge their phones and enjoy free Wi-Fi. Going right along with the spirit of CMA Music Fest, HGTV also utilized the space for a host of live performances by artists like Goo Goo Dolls and Justin Moore. Access to the live shows was limited to those who had RSVPed in advance via Facebook, Twitter or HGTV.com. HGTV did a great job of transforming their space, which was essentially a parking lot, into a welcoming environment that tons of fans interacted with on-site throughout the weekend, and online outside of the event.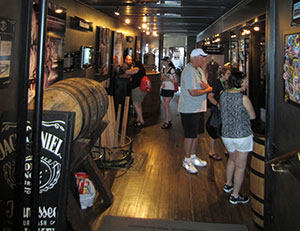 Next up in Fan Alley was the Jack Daniels mobile distillery. Nothing says Tennessee like Jack Daniels. There were plenty of fans lined up to take the free mobile distillery tour when I stopped by. The 53-foot trailer is meant to be a mini-version of the real distillery tour one would experience in Lynchburg, Tennessee. My favorite part about this stop was that the mobile unit was well staffed with knowledgeable employees playing trivia games with fans and teaching them all they could ever want to know about the history of Jack Daniels Tennessee Whiskey.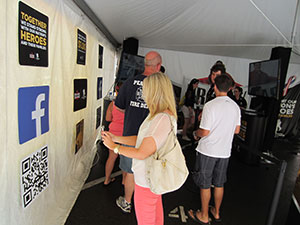 After my tour through the Jack Daniels mobile distillery, I stopped by the Brawny tent, which was co-branded with the Wounded Warrior Project logo. I stopped to chat with the booth staff and learned that Brawny had teamed up with Wounded Warrior to donate $1 for every Facebook like Brawny received, or for every note participants stopped to write on the 'Wall of Thanks.' The Brawny tent was also well staffed with knowledgeable employees who were able to tell me all about Brawny's partnership with Wounded Warrior, including the fact that Brawny has donated $500,000+ to the organization since 2012. The staff encouraged me to like their Facebook page by scanning a QR code located conveniently inside the tent, stop and write a note of thanks on the screen provided inside the tent, and thanked me for stopping by and supporting Wounded Warrior.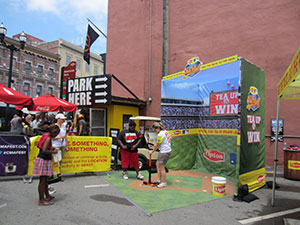 My last stop was the Lipton Iced Tea sampling bar located in Fan Alley. Lipton Iced Tea is all about delicious, refreshing drinks, and setting up an iced tea sampling bar at CMA Music Fest, in the midst of a hot and humid weekend in Nashville, was the perfect fit for this event. Fans jumped at the chance to grab a cold drink, and Lipton got the opportunity to share their tea flavors with thousands of thirsty fans passing through. In addition to the sampling activity, Lipton had a Tea Ball game set up, and gave away Lipton-branded prizes to participants.
The sponsors at CMA Music Fest's Fan Alley found lots of creative ways to capitalize on a captive audience of thousands of fans looking for a fun weekend in Nashville. From playing interactive games to product sampling and supporting worthy causes, sponsors drew in hoards of fans who liked, Tweeted and Instagrammed their way through the weekend.
How else have you seen brands using social media and interactive games to promote their products at events? Share your thoughts in the comments!