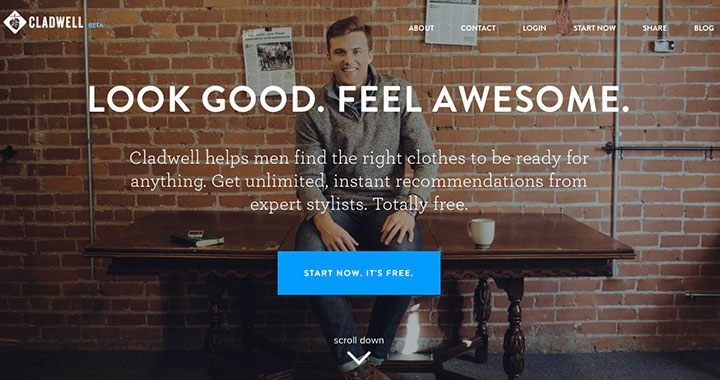 Alright guys…  In today's age there's no excuse for not knowing how to dress yourself.  We know you think it's cute to wear jeans and t-shirts that were part of your college days, but that's not how you can impress that venture capitalist or the ladies.  Especially when there's a service like Cladwell that can help you.
Cladwell is a startup out of Cincinnati, Ohio, and they specialize in providing clothing recommendations to men.  As they explain on their website, "Cladwell exists to help men find the clothes to kick ass. We like to think of ourselves as Curators of Confidence."
Plus, it's quick, easy and painless.  So if you hate the mall, or are an entrepreneur and don't have time for the mall, Cladwell is perfect for you.  Here's how it works.  First, you go to their site, answer a few questions about yourself including what you're looking for and the price you're willing to pay (mostly in pictures), and then Cladwell generates a style recommendation just for you for free.  Then, you buy their recommendation.  That's it. You're done and well on your way to being a well-dressed man.  Easy, right?
There are a few services out there that offer style recommendations, including Chicago startup StyleSeek, which provides recommendations for both men and women.  But, where Cladwell differs is in their approach.  They're not trying to provide you with a ton of choices.  If you're looking for that, this is not for you.   Blake Smith, co-founder of Cladwell, explains, "Most of the web is about providing more options and more functionality.  We're trying to provide fewer options and make decisions easier for guys in an area they don't want to be experts in."
That's why they only provide three recommendations per request, so you can get in, get out, and get more done.  You don't have to worry about being intimidated by fashion either.  "I feel like a lot of the fashion world feels intimidating or snooty to a lot of dudes," said Smith.  "So we want to make it super accessible, not intimidating, and make it to where when you leave your interaction with Cladwell you feel 100% that this is the best item for you."
Cladwell has been through quite a few changes over the past year.  When I first heard about them, they charged guys for a recommendation.  Earlier this year, they relaunched their website, automated the process, and made it free.  This change came about after they experienced scalability issues.  They even had to shut down their site twice because of the demand on their stylists, who pulled all-nighters to catch back up.
"We had to take a big gamble this fall.  We essentially stopped marketing for three months to build up our infrastructure," commented Smith on solving their scalability issues.  "Specifically we took something that was being done manually by stylists and shifted it to be done by our algorithm.  Now our stylists are curators who are finding cool clothes and throwing them in our algorithm, and our algorithm makes recommendations to guys so now we are not having a scaling issue."
As far as what's next for Cladwell, they're going to continue to offer their recommendations and improving on the shopping process for their customers, providing a holistic approach.  Instead of one-off purchases, they want men to think in terms of a wardrobe.
"Most guys are buying in a way that is hurting them in some ways.  They're chasing after sales or being pushed around by advertising," explained Smith on Cladwell's overall vision.  "It's more of a reactive mindset, and we want to shift them into a proactive mindset.  We want to engineer what a wardrobe should look like for them and allow guys to check off items they already have and buy the items they need.   The guys who are in New York fashion week, this is how they think about clothing.  It will save them time, money, and they'll look a lot better."
What do you think guys? Will you use these curators of confidence?  Get started with your first recommendation by clicking here.