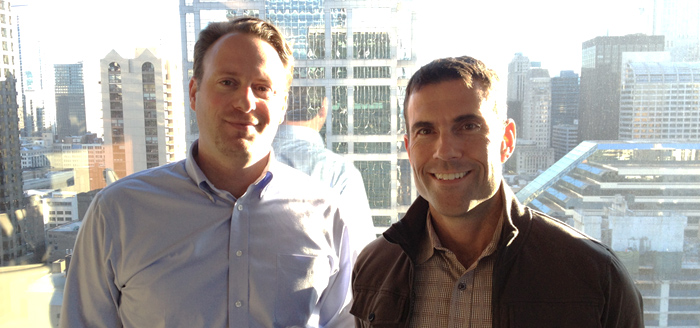 Foley & Lardner attorneys Chris Cain and Galen Mason are long time supporters of Chicago entrepreneurship and are among the founding members of Catapult, the River North startup incubator housed amidst the Foley law offices at 321 N Clark. Cain and Mason share how they became entranced with the world of entrepreneurship, the story behind the formation of Catapult, and their thoughts on Chicago's startup scene today.
On Getting Started With Entrepreneurs
Galen:
I joined Foley in 2010 from another big firm in Chicago. It's common for big firms to want to do big client work and not startup work. I've always had a little bit of an entrepreneurial bent in terms of practice, and Foley has more of a tradition with working all up and down the client food chain.
When the tech boom started in Chicago and Groupon was having its heyday, it was fascinating to me. These are young people doing incredible things and being rewarded incredibly. That's something that I wanted to be involved in.
I always saw it like being the farm kid living down the road from Woodstock — all the sudden all these crazy cars and people go by. At some point you have to go check it out.
Chris:
I love technology, I've always been a gadget geek. When I became a lawyer I always wanted to pursue my interest and love of technology any way I could. Prior to joining Foley I worked in house as a general counsel for Sonic Foundry. It was a great opportunity to work with a publicly traded software company and broaden my expertise when it comes to technology. I got a mini entrepreneurial perspective and an inside look and I became entranced even more than I had before.
I'm most passionate about the practice of law when it intersects with tech issues and I've continued to practice law in the tech area, representing companies that acquire tech and companies that are providers of tech. I've always tried to reserve work for tech startups — that's sort of where my desire to help entrepreneurs came from.
The Formation of Catapult
Chris:
The genesis of Catapult is serendipitous, as many good ideas are. Foley hosted a group of people at a Cubs game during the Summer of 2011 and we ended up meeting Ryan Leavitt and Vishal Shah. Through conversations with the two of them we became aware that there were a lot of companies that were startups in a literal sense but way beyond the typical startup: they had raised money, they had developed an MVP, and were generating revenue. They were looking for a community, a physical space to network with others that were in a similar situation. The existing options in the Midwest weren't a good fit; you could go to common spaces populated by a variety of different companies in different stages but there wasn't any cohesiveness.
We refer to these companies as "scaleups." By definition it's meant to differentiate a company that's just started and doesn't have a product to ones that are typical of Catapult. They're much further along to that way of independence and becoming a successful company.
When we started talking to the two of them Galen said, "We've got all this space here at 321 N Clark. What if we could convince Foley to donate this space to see if the initiative of Catapult could work?"
Catapult's Success So Far
Galen:
In certain aspects I've been wildly impressed. Other lawyers at the firm come in and the thing that you hear consistently is that there's just this energy there that's unbelievable. I think in part it's a younger group of people on their own, out doing their own thing. How can you not want to go down and see what's going on at Woodstock? That has really blown me away, the feeling of being a part of something.
It's something new to Chicago — the city thinks of startups differently. If you tell someone on the coast that you work for a startup or formed a startup they think, "Wow, can I fly in your plane someday?" In Chicago people tend to ask, "Jeez, could you not get a real job?" But Catapult is largely made up of people that could be doing my job, or a job 90 iterations more sophisticated than my job. The general response has blown me away.
The Chicago Startup Community
Chris:
Overall, I think we're optimistic. I think Catapult, as it's evolved, it serves an important need. A smaller communal space fosters community. I think when you look at the ecosystem as a whole there's a lot going on right now. Whether it's the Groupon effect or not, we've somewhat slipped the bounds of that and I think that's good.
If you talk to a lot of the founders, there's a consensus that this is a fantastic town for friends and family and seed rounds. I think a lot of them will tell you that it's not as great of a town for series A, B, and C rounds; a lot of companies when they get those next rounds have to go to the coast for financing. I think part of that is the risk profile — the way VCs here approach things, and I think part of it is there's still way more capital to be deployed on the coast than there is in Chicago.
We were excited, as were most people, when NEA opened a Chicago office. They're a monster, in a good sense. They have a lot of capital to deploy. We think that's a really good sign — a clear manifestation that they don't view Chicago as "flyover country." We need more Chicago outposts from the coastal firms.
I think in that regard it's still promising, but I think it's early days. When we have more risk-based venture capital, more successful exits from entrepreneurs, who will stay here and reinvest their wealth, then we can get that foldover effect that's made Silicon Valley as successful as it is. If Chicago can get that it can get to that level of success too.
Galen:
We're working to get the best of the best together and feed off of each other. They're the ones who can get it done, they're motivated by the right people. All the right ingredients are there for the Chicago tech scene to climb out of the primordial ooze.
What They Love Most About Working with Chicago Startups
Chris:
For me it's the innovation technology. I never cease to be amazed at how clever these startups are at taking some aspect of technology and repurposing it in a new way that no one thought about. The sense of energy, purpose, drive, and passion for what they're doing is just amazing. In a lot of ways it's what makes us a great country, at it's most basic sense, asking, "What can I do to improve society as it stands using technology?"
To me that's fascinating — it's a skill I don't posses. I like to think of myself as a patron of technology. I'm endlessly fascinated and supportive of what these clever minds do all the time.
Galen:
Helping people achieve their dreams, it's fun to me. If you're in a service industry that's what it's all about. It's just the most rewarding professional experience that you could possibly have. It can also be the most painful if you get involved. It comes with both the ups and downs.