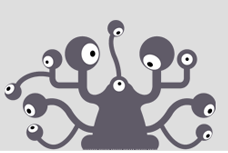 *Editor's Note: This Press release is being posted exactly as it was sent to me- sounds like a GREAT contest! Good luck to everyone that enters!
Chicago-based Venture Fund Partners with crowdSPRING and i.c. stars to Find Top Web Design Talent
CHICAGO, Sept. 23 — Lightbank (www.lightbank.com), the Chicago-based venture fund behind Groupon and many other successful start-ups, is offering a $5,000 reward in its search for outstanding web talent in the Chicago area and beyond.
The company announced today that it has partnered with crowdSPRING, a leading marketplace for crowdsourced creative services, and i.c. stars, a nonprofit supporting change-driven leaders, to launch the 2010 Ridiculously Big & Shiny Design Award, which will honor one talented web designer with a $5,000 cash prize–plus an extra $1,000 if the winner hails from the Chicago area.
The contest is now open and entries must be submitted before Sunday, October 10. To submit an entry, visit 2010 RIDICULOUSLY BIG & SHINY DESIGN AWARD.
"Lightbank is privileged to work with so many exciting, tech-enabled startups, all of which require user-friendly, visually engaging web sites," said Kevin Leland, entrepreneur-in-residence at Lightbank. "We are always looking to find gifted web designers and give them an opportunity to drive the creative direction for one of these promising new companies."
Applicants must create a new homepage and one interior page for a new icstars.org site, based on a creative brief provided by the organization. i.c. stars is a nonprofit technology and workforce development organization that provides resilient low-income adults in the Chicago area with technology and leadership training, and connects them with career opportunities.
"The creative brief we have put together provides detailed guidance to help applicants create the most compelling entry," said Eric Lannert with i.c. stars. "We're very excited to see what the candidates come up with and are grateful that Lightbank and crowdSPRING are helping us to refresh our online presence."
Entries are being accepted at crowdSPRING, a global online marketplace for buyers and sellers of creative services such as logo design, web design, other types of graphic design, industrial design and writing services at an affordable price.
"We commend Lightbank for embracing crowdsourcing and recognizing its many benefits," said Michael Samson and Ross Kimbarovsky, co-founders of crowdSPRING. "Not only will the competition help identify talented creatives, but it is an easy and time-saving marketing solution that will generate quality results."
All non-winning artists will be considered for future Lightbank design projects, and applicants are encouraged to include links to a portfolio along with their application for future reference.
About Lightbank
Lightbank is a Chicago-based fund focused on early-stage technology companies. Founded by Eric Lefkofsky and Brad Keywell, who founded Groupon, MediaBank, InnerWorkings and Echo Global Logistics, Lightbank invests money, time and expertise to help innovative businesses achieve dynamic growth. For more information, visit http://www.lightbank.com.
About crowdSPRING
crowdSPRING is an online marketplace that offers small businesses a better way to buy custom logo design, web design, graphic design, industrial design, and writing services. For buyers, crowdSPRING is a place to post a creative project, watch the world contribute ideas and choose the best at an affordable price. For creatives, crowdSPRING is a global stage for creativity where title and experience don't matter. crowdSPRING is a privately held company based in Chicago. For more information, visit www.crowdSPRING.com. To learn more about the world of small business, startups, design, marketing and business strategy, followcrowdSPRING's blog at http://blog.crowdspring.com/. CrowdSPRING is also on Twitter at http://twitter.com/crowdSPRING. Join the crowdSPRING community on Facebook at http://www.facebook.com/crowdspring.
About i.c. stars
i.c. stars is a non-profit organization in Chicago for adults with a high school diploma or GED. Using project-based learning and full immersion teaching, i.c. stars provides an opportunity for change-driven, future leaders to develop skills in business and technology.