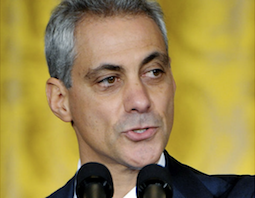 Earlier today we reported that Chicago is going to be opening a new technology center for startups.
A technology center to bring Chicago's entrepreneurs together has long been a wish for the Chicago digital entrepreneur community. Steve Collens, VP of New World Ventures, has been leading the effort to develop the new center and has been holding breakfasts at New World's offices to seek the input of entrepreneurs throughout the city.
Long called "Chicago Tech's worst kept secret" by those in the know, these meetings have been taking place regularly as Collens sought input from entrepreneurs on what they would like to see in a new tech center. Rumors swirled that the Merchandise Mart was a possible location for the center, as it has easy access to the El trains and has many options for cheap food; something any good startup system needs. At this time it is unknown if the tech center will reside at the Merchandise Mart.
Mayor Rahm Emanuel to Dedicate Center
Chicago Mayor Rahm Emanuel is expected to be present at the opening ceremony for the center (likely in December) and use it to bring through foreign dignitaries whenever there is a need to show off Chicago's tech community.  Mayor Emanuel has been an outspoken champion of the tech community, as well as Chicago, and received our endorsement in the Mayoral race last year.
Kevin Willer to Run New Tech Center or Matt Moog?
Many questions abound around who will actually be running the center. While Matt Moog — of Viewpoints and Built in Chicago — is the public face at the moment, others claim Kevin Willer of the Chicagoland Entrepreneurial Center and New World Ventures will take over lead.
All of the city's venture capital firms are rumored to have committed to having offices in the new center including OCA, Sandbox Ventures, Apex, Tech Wildcatters, Hyde Park Angel, New World Ventures, and others. These all have yet to be independently verified, but news announcing which firms will definitely have offices will be forthcoming soon.
The Fail Cube as center's pre-cursor?
Currently there is a floor in the Merchandise Mart now being occupied by several startups. One of which is Chicago's own Tap.me games whose CEO, Josh Hernandez, calls"The Fail Cube." When asked why it is called "The Fail Cube," Hernandez answered, "Because every company in the space is innovating, failing fast, pivoting when needed and moving forward as fast as we can innovate."
This story is still developing so please check back for updates.
[Image credit: NY Daily News, Joselito Tagarao]